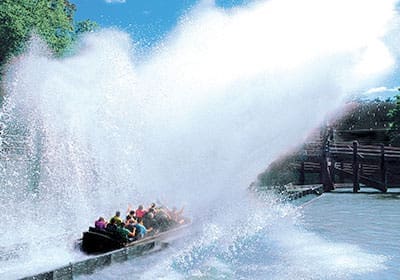 Boston Tea Party
Height Requirements: 36" Min, under 40" accompanied by a supervising companion
* Operates thru 9/17
The Shoot the Chute water ride promises to make a huge splash. With a fifty-foot drop and nearly 250,000 gallons of water, guests will experience what it was like to be a crate of tea during the Boston Tea Party®. A large, 20-passenger boat travels up a hill and through a trough much like a flume. When the boat reaches the bottom of the hill, it creates a wall of water 50 feet high and 100 feet wide.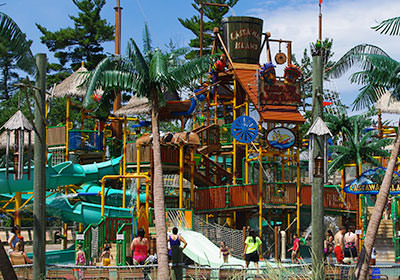 Castaway Island
Proper Swimwear is Required
Open Memorial Day Weekend Thru Labor Day Weekend
Castaway Island is an interactive water activity center for Guests of all ages featuring water slides, pull ropes, water guns, turn valves, geyser jets, water curtains, bridges, water wheels, a large overhead tipping bucket and so much more. Guests experiencing this attraction will never run out of options but will most certainly get WET. Castaway Island is open during all Park hours, weather permitting. However, on dates that the Park closes at 8pm or 10pm, Castaway Island closes at 7:00pm.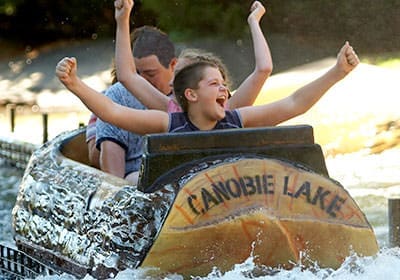 Policy Pond Log Flume
Height Requirements: 36" Min, under 42" accompanied by a supervising companion
* Operates thru 9/17
One of our most popular attractions on a hot day, the Flume combines the thrill of a roller coaster with the relief of a water slide. Your journey begins as you travel up and then down a small hill, meander through the woods, and then try your luck as you shoot the rapids. The ride's climax is a 40-foot drop that plunges you into the water below.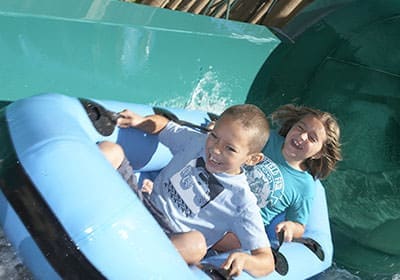 Tall Timber Splash
Height Requirements: 42" Min
* Operates thru 9/17
The Tall Timber Splash is a wet/dry water slide type ride. It contains all the excitement of a water slide, while allowing riders to remain fully clothed. Guests sit in rubber rafts that careen through straightaways and high banking turns at swift speeds.