PLEASE NOTE OUR SCHEDULED HOURS FOR THIS WEEK:
The Park will be closed on Wednesday & Thursday, 8/31 & 9/1. The Park will be open THIS LABOR DAY WEEKEND, FRIDAY THROUGH MONDAY, 9/2 – 9/5, DURING the hours noted below.
Click to check our Monthly Calendar of Events.
Please see our Park Policies regarding your visit with us.
Hours are subject to change, especially in the event of inclement weather.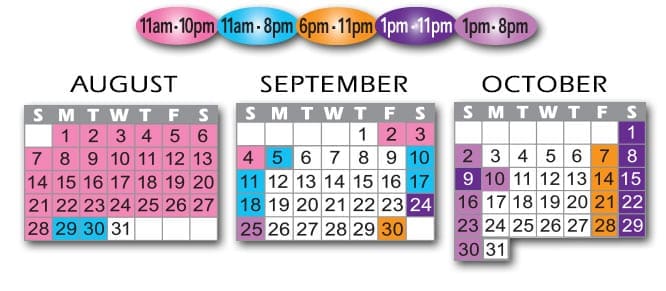 On "pink" and "blue" days, the Main Gate and Castaway Island open at 10:30am.  CASTAWAY ISLAND CLOSES FOR THE SEASON ON SUNDAY, SEPTEMBER 11, 2016.
Castaway Island closes at 7:00pm
Check out our SCREEEMFEST Dates & Hours!