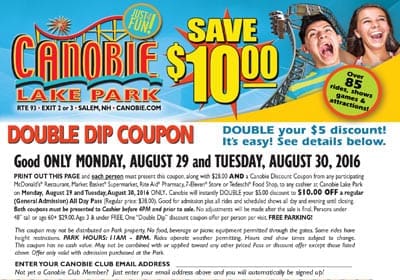 Double Dip Special
Available Monday August 29 & Tuesday August 30 Only
DOUBLE your discount this Monday, August 29 and Tuesday, August 30, 2016! Just visit a participating McDonald's® Restaurant, Market Basket® Supermarket, 7-Eleven® Store, Tedeschi® Food Shop or Rite Aid® Pharmacy and grab a $5 Canobie discount coupon. Download your Canobie Club Double Dip Instant Coupon (it's a PDF) and PRINT ONE FOR EACH PERSON who wants the discount.
See coupon for all the details.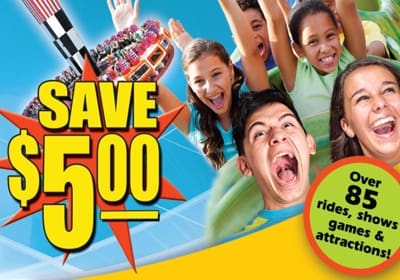 Discount Coupons
Mondays through Fridays June 17, 2016 - August 30, 2016 (except July 4)
Save $5 off our $38 General Admission
$5 Discount Coupons are available at participating McDonald's Restaurants, Market Basket Supermarkets, Rite Aid Pharmacies, Tedeschi Food Shops and 7-Eleven locations throughout New England!! These coupons are valid for $5 off our all-day General Admission price of $38 Mondays through Fridays from June 17, 2016 - August 30, 2016 (excluding July 4th).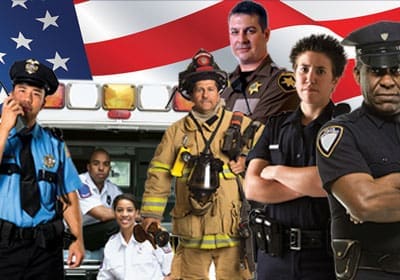 First Responders Appreciation Days
Police / Fire / EMS
FREE Admission on FRIDAYS through September 2, 2016
Local, county, state and federal law enforcement officers, emergency dispatchers, and fire & rescue personnel (active and retired) showing proper department-issued identification will receive free admission by visiting our Guest Services windows upon arrival any Friday from July 15, 2016 through September 2, 2016. Guest Services is located to the right of the cashier booths. Any additional members of their party may purchase their own admission or take advantage of any applicable discount coupon programs on this Specials page.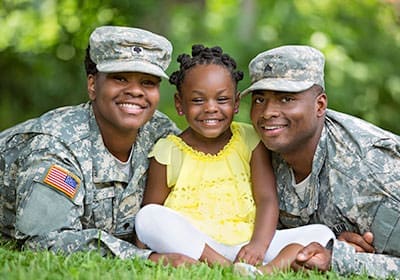 US Military Appreciation Discount
$7 off $38 Admission Mon-Fri, $5 off $38 Admission Sat/Sun
Visit any cashier booth with your US Military ID (or Veterans ID/paperwork) for $7 off our $38 General Admission ticket Mondays through Fridays or $5 off our $38 General Admission Ticket on Saturdays and Sundays. Each family member over the age of 12 must have their own ID. Ages 12 and under may be accompanied by a parent/guardian with ID.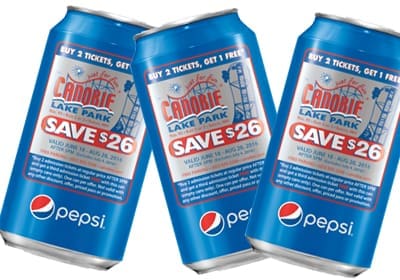 Pepsi Cans
June 18, 2016 - August 30, 2016 (except July 4th)
Buy 2 Get 1 FREE After 5pm
Stop by any retailer selling cans of Pepsi throughout New England to find Specially Marked Cans valid for a "Buy 2 Get 1 Free After 5pm" discount coupon. Can must be the specially marked can and we only accept empty cans.
Please note 8/8/16: It is likely that many retailers have already sold out of their specially marked cans. It is suggested to try locations that have a bit slower of volume (smaller locations/retailers, etc.).