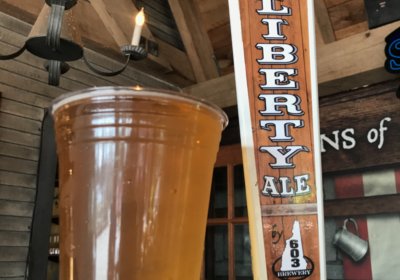 Grab a sandwich, grab a pint!
Refreshing and hearty treats!
Located by the Boston Tea Party ride
Head in to the Son's of Liberty Tavern to sit and order a sandwich basket, those amazing chicken tenders or a tall cool pint of our VERY OWN CRAFT BEER, the Sons of Liberty Ale.
Menu
Chicken Tenders
Buffalo Tenders
Liberty Grilled Cheese
Ham and Swiss Melt
Sweet Potato Fries
Waffle Fries
Cheese and Bacon Fries
Clam Chowder
Popcorn
Nachos w/Cheese
Tossed Salad
Chicken Caesar Salad
BLT Sandwich
Grilled Reuben
Turkey Club Wrap
Chicken Caesar Wrap
Buffalo Chicken Tender Wrap
Kids Chicken Tenders w/Soda
Kids Uncrustable PB & J w/Apple Juice
Kids Grilled Cheese w/Soda
Fresh Brewed Iced Tea
Pepsi
Diet Pepsi
Mountain Dew
Sierra Mist
Tropicana Fruit Punch
Souvenir Refill
Bottled Water
Milk
Chocolate Milk
Apple Juice
Hot Tea
Hot Coffee
Wine
Draft Beer
Premium Draft Beer
Frozen Alcoholic Beverages