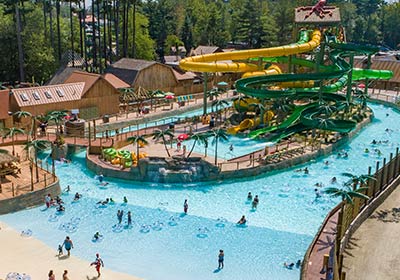 Castaway Island
Proper Swimwear is Required
Closed for 2019. Will re-open in the spring of 2020!
Featuring a crazy-wavy Tidal River, wild water slides, a Rain Fortress, a lagoon for kids, cabana rentals, restaurants, a tiki bar and much more! It's like an island destination that's close to your home!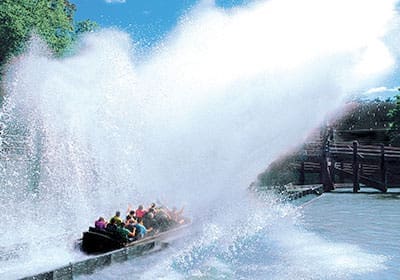 Boston Tea Party
Height requirements: 40" minimum, 36" minimum with a supervising companion
* Operates thru 9/15
The Shoot the Chute water ride promises to make a huge splash. With a fifty-foot drop and nearly 250,000 gallons of water, guests will experience what it was like to be a crate of tea during the Boston Tea Party®. A large, 20-passenger boat travels up a hill and through a trough much like a flume. When the boat reaches the bottom of the hill, it creates a wall of water 50 feet high and 100 feet wide.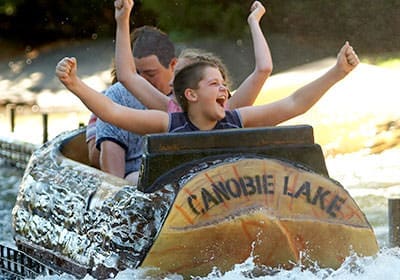 Policy Pond Log Flume
Height Requirements: 42" minimum alone, 36" minimum with supervising companion
* Operates thru 9/15
One of our most popular attractions on a hot day, the Flume combines the thrill of a roller coaster with the relief of a water slide. Your journey begins as you travel up and then down a small hill, meander through the woods, and then try your luck as you shoot the rapids. The ride's climax is a 40-foot drop that plunges you into the water below.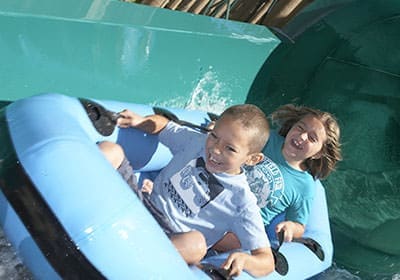 Tall Timber Splash
Height Requirements: 42" Min & 90 lbs minimum and 300 lbs maximum per raft
* Operates thru 9/15
The Tall Timber Splash is a wet/dry water slide type ride. It contains all the excitement of a water slide, while allowing riders to remain fully clothed. Guests sit in rubber rafts that careen through straightaways and high banking turns at swift speeds.