Opening
Now open on Fridays, Saturdays, and Sundays with Early Season Pricing in effect!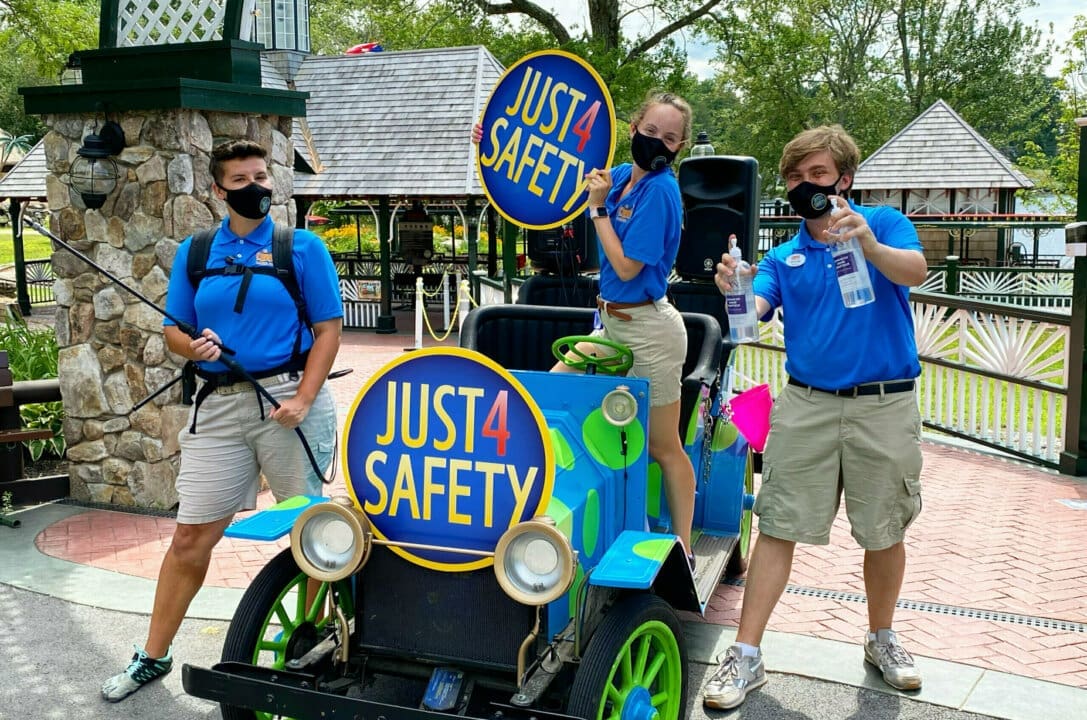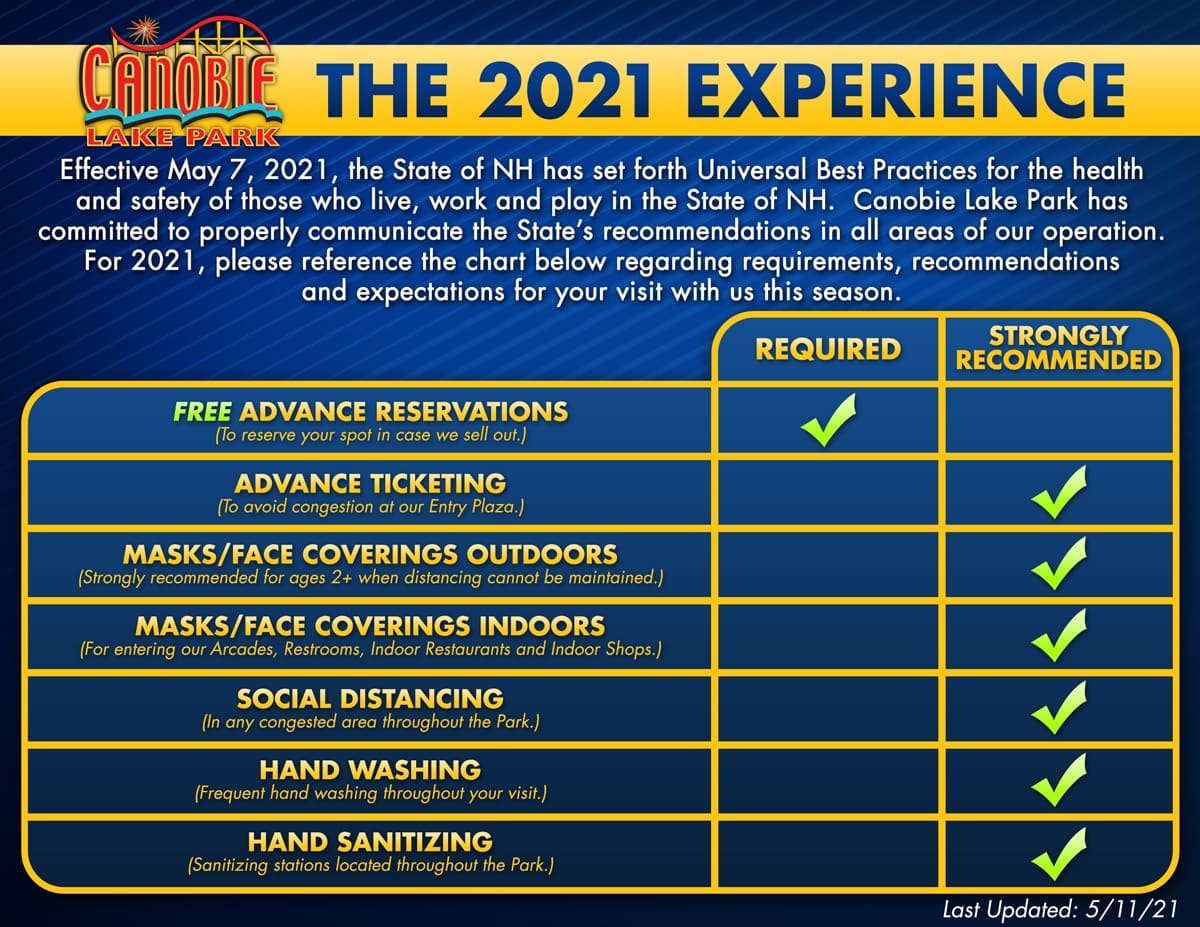 Frequently Asked Questions
Opening & Hours
Our Grand Opening for 2021 is Memorial Day, Monday, May 31st!

Canobie Lake Park is now open Fridays, Saturdays and Sundays through June 20th from 10:30am-6pm.  Beginning Wednesday, June 23rd, the Park is open Wednesdays-Sundays from 10:30am-6pm.  Beginning June 30th, the Park is open Wednesdays & Thursdays from 10:30am-7pm, Fridays & Saturdays from 10:30am-10pm, and Sundays from 10:30am-7pm.  Please note we have some extended hours surrounding July 4th weekend and Labor Day Weekend.  Our current calendar may be viewed at the link below.

Park Hours Here

Castaway Island is scheduled to open on our Opening Day (May 31, 2021)! Castaway Island is expected to operate each Park operating day from Opening Day through Labor Day from 10:30am-6pm, weather and temperature permitting.

Check Out Castaway Island

You bet! Most attractions are scheduled to be open this season but please check any signage at Guest Services or our Ticket Booth areas prior to entry to see if any attraction or area is expected to not operate on any particular day.
Tickets & Pricing
Reservations
Yes. Where there will be some limits to capacity in 2021 to ensure that open space is available for proper social distancing, we are requiring an advance reservation for each guest wishing to attend. Please note that depending on weather, time of year, day of week, and limitations on capacity, we still may sell out on certain days in 2021. We suggest securing your reservation at least a few days in advance (possibly more on summer weekends).  RESERVATIONS ARE NOT REQUIRED IN 2021 FOR SEASON PASSHOLDERS.


MAKE YOUR FREE RESERVATION

No problem! If you find that you need to cancel your reservation, please send us an email at info@canobie.com with your reservation number and we will remove the reservation for you!  Then, you can make a new reservation for the new date that you wish to attend.

Reservations may be made anytime in advance of your visit! Currently, reservations are available through mid-September 2021. We expect reservations for the fall to be available in the coming months.

MAKE YOUR RESERVATION

In the event the Park is not able to open due to inclement weather or forecasted conditions, each guest who has a reservation for the day will receive notification of the closure via the telephone number they provided at the time of reservation. All reservations for that particular day will be cancelled. Your admission tickets may still be used on another day so just make sure to re-visit canobie.com to make a new reservation for the new date you are looking to visit.

Reservation totals are updated in real time. If there are no available reservations on the day you wish to visit, it means we have either sold out or are not open that particular day.  PLEASE NOTE: Reservations are not required in 2021 for Season Passholders (Basic or Platinum)

Health & Safety Guidelines for the 2021 Season
It is strongly recommended, but not required, that everyone in your party over the age of 2 arrive with and wear a mask/face covering throughout your visit, in particular, where proper distancing between groups cannot be consistently maintained as well as inside interior facilities such as arcades, restrooms, indoor attractions, and indoor restaurants.


Capacity will be limited this season to ensure that all guests, families and groups are able to maintain proper distancing from others that are not in their party.  There will be areas of the Park that are more congested than others where masks/face coverings will be strongly recommended. However, the Park itself is vast and open with plenty of outdoor areas to properly distance when you or anyone in your party begins to feel congested. If you need assistance in locating open space, just ask!

For 2021, individual attraction capacities will increase to up to 100%, where practicable. Hand sanitizer stations will be available throughout the Park and our attractions, games, and areas will be cleaned and sanitized regularly throughout the day!
Season Passes
No.  As a Season Passholder (both Basic and Platinum), we are no longer requiring you to make a reservation and we will always have room for you!  However, if you are bringing any additional guests with you (except on an official Bring-A-Friend Day), all additional members of your party will need a valid reservation.

If you still need your Season Pass printed you should already have a paper Season Pass voucher that you will use as your admission ticket to enter the Park once you arrive. Then, you will make your way to the Welcome Center between 4pm-6pm to redeem the voucher for the printed plastic card. The Welcome Center is located between Kiddieland and the Boston Tea Party!

Season Pass vouchers should be redeemed for your plastic card on your first visit with us on any day the Park is open at our Welcome Center (located inside the Park) between Kiddieland and the Boston Tea Party from 4pm-6pm.

If you don't have a season pass on the day you visit, you may purchase a one-day general admission ticket to enter the Park. Once inside, you may upgrade your ticket (at the upgrade price) to a Season Pass between 4pm-6pm at our Welcome Center located between Kiddieland and the Boston Tea Party.  If you are purchasing for someone else who is not physically at the Park, it must be done online at the regular price as their photo must be taken when we upgrade their ticket to receive the official pass.

Currently, our first Bring-A-Friend Day is scheduled for Friday, June 11, 2021.  All Season Passholders are notified of special days via the email provided when purchasing.

Please note: Both the Passholder and the complimentary second entry guest must arrive together on June 11, 2021. Reservations are now NOT REQUIRED FOR SEASON PASSHOLDERS. Additionally, reservations will not be required for your "friend" on June 11th.

On June 11, 2021. Both you and your guest should approach our Park Entrance and enter the line noted as "Season Passholders Enter Here". Your complimentary guest will need to be physically with you at entry. We are not able to accommodate your guest if they arrive at our gates earlier or later than the Passholder.