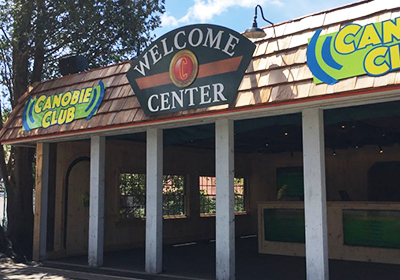 New to the CanobieClub?
Our Premier Loyalty Program!
Visit us at the Welcome Center between Kiddieland and the Boston Tea Party.
The CanobieClub is the Park's brand new loyalty program. Signing up is ABSOLUTELY FREE and you even get a free game and a free souvenir bracelet just for joining!!! Your bracelet may be used to earn points throughout the Park by riding rides, watching shows, or spending in-Park on games, food or retail. You may visit our welcome center located between Kiddieland and the Boston Tea Party to join once you arrive!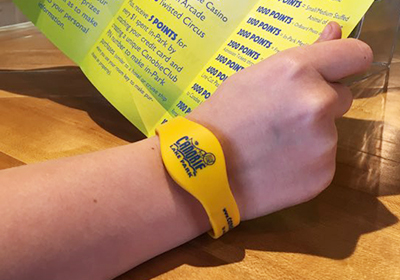 Already Received your bracelet?
Welcome to the CanobieClub!
Setting up your online account is only a few clicks away!
Once you have received your CanobieClub bracelet, you can register your online account here. Then you are able to see your points, see your membership level, track any in-Park spending and see what prizes, gifts or experiences you have unlocked!!
Is it really free?

Yes.  It is absolutely free to sign up for the CanobieClub Loyalty Program.  In fact, we will also give you a FREE game and a FREE souvenir bracelet just for signing up!  The bracelet is what you can use to earn points throughout the Park by riding rides, watching shows, or any in-Park spending on your bracelet at any of our games, food and retail locations.

How do I sign up?

When you arrive at the Park, you can sign up at the Welcome Center located in the center of the Park between Kiddieland and the Boston Tea Party.  This bracelet will be pre-loaded with your free game.

How do I earn points?

Just for signing up, we bonus you 125 points so you can achieve your FREE game.  Once you have your bracelet, there are 2 ways to earn points: 1) You can scan any of our scan boxes once per day located throughout the Park to receive 10 points per visit, 2 points each for visiting 8 of our attractions (16 ride points total per day) and 5 points for scanning in for our Twisted Circus live show (only available on scheduled dates and times of the show), or 2) You can use your bracelet to make purchases at almost any game, food stand, restaurant or retail location throughout the Park.  You will receive 5 points for every $1 spent in-Park.  When you sign up, you will have the option to attach your credit card and create a unique CanobieClub PIN number to make in-Park purchases.  This is similar to a hotel or cruise ship where you use your room key to make purchases on property.

How do I redeem points?

As you earn points, you will reach milestones.  At each milestone, you will receive an email congratulating you on your earned prize, gift or experience.  Each email will have instructions on how to redeem that particular "token" using your bracelet.  (Example: You have unlocked a free game. Either by the end of the day or on your next visit, visit any one of the following games with your CanobieClub bracelet to play your free game.)

What free stuff can I earn?

Point milestones are:

125 Points  = 1 Free Game
250 Points = Souvenir of Choice
375 Points = 1 Free Game
500 Points = Small/Medium Stuffed Animal of Choice
1000 Points = OnBoard Photo of Choice
1500 Points = In-Park Meal Voucher
2000 Points = Free Preferred Parking
2500 Points = 4 Any One Day Admission Tickets through September 15th
3500 Points = Hat/T-Shirt Combo
4500 Points = 4 Screeem Express Line-Cut Passes for Screeemfest Haunts
5000 Points = 4 Saturday Tickets to Canobie Lake Park Screeemfest
7500 Points = Free 1 day Cabana Rental in Castaway Island for 2019 or 2020
10000 Points = Free Admission and Lunch for 8 people in 2019 or 2020

Can I track my purchases, points and membership level?

Yes.  Just visit Canobie.com/tap to set up your online account after you have received your bracelet in the Park.  Your online account allows you to track spending, view your earned points, see prizes achieved as well as to make changes to your personal information.

Where is the bracelet accepted for payment?

The CanobieClub bracelet is accepted as payment at almost all games, food stands, restaurants, retail shops, and OnBoard photo locations throughout the Park.  The bracelet cannot be used for admission.

What are the membership levels?

There are three levels of membership each unlocking different offers:

0-2499 Points = BRONZE CanobieClub Members: Receive emails about events, specials, etc.

2500-4999 Points = SILVER CanobieClub Members: Receive emails with deeper discounts and bring a friend days.

5000-10000+ Points = GOLD CanobieClub Members: Receive secret discounts & deals, private events, attraction opening events, etc.

What if I lost my bracelet?

Don't worry, we can replace it for you at the Welcome Center.  Either give us a call at 603-893-3506 x4777 or email CanobieClub@canobielake.com and we can deactivate the bracelet for you until you come back to pick up your new one.
Still have a question?
Let's Chat!
In Person: Our CanobieClub Welcome Center is located in the center of the Park between Kiddieland and the Boston Tea Party
On the Phone: (603) 893-3506 x4777
Via Email: CanobieClub@CanobieLake.com
The CanobieClub Welcome Center is open during Park hours on Park operating days.  On days when the Park closes at 8pm, 9pm or 10pm, the Welcome Center will close at 7:00pm.
The CanobieClub Terms and Conditions may be found here.