Each general admission ticket available for purchase is good for ONE person for ANY one day you wish to attend during our 2017 operating calendar. Plus parking is always FREE!
Please see our Park Policies regarding your visit with us.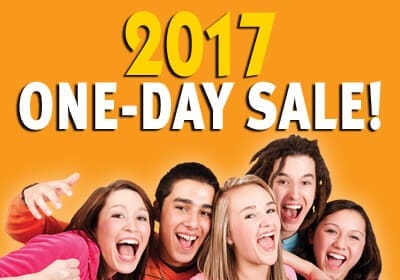 ONE DAY SALE!
SATURDAY, MAY 6TH, 2017
SUPER LOW Price of only $29 Online and at the Park!
Visit this page on Saturday, May 6th, 2017 to purchase discounted tickets at the SUPER LOW price of only $29! Online purchasing for this great deal is only available Saturday, May 6th, 2017 through midnight or at the park from 11am-6pm (weather permitting). This is a ONE DAY SALE so act fast!
*One use per pass. Each pass valid any one day in 2017. May not be combined with any other priced pass, discount, offer or promotion.
2017 Special Spring Pricing
In effect through May 21, 2017
GENERAL ADMISSION: $29 AT GATE
UNDER 48" and AGE 60 AND OVER: $26 AT GATE
AGE 3 AND UNDER: ALWAYS FREE!
These special spring discounted tickets may only be purchased at the Park and are valid ONLY on the day of your trip. The general admission tickets available in our online store may be purchased for ANY day you wish to attend during our 2017 operating calendar.
2017 General Admission Prices
For information on our specials or our US Military/Veteran discounts, click here
Corporate eTickets
Corporate Discount Program eStore Login or Apply Now.