Heritage Trail
Learn all about Canobie Lake Park's deep history and horticultural roots.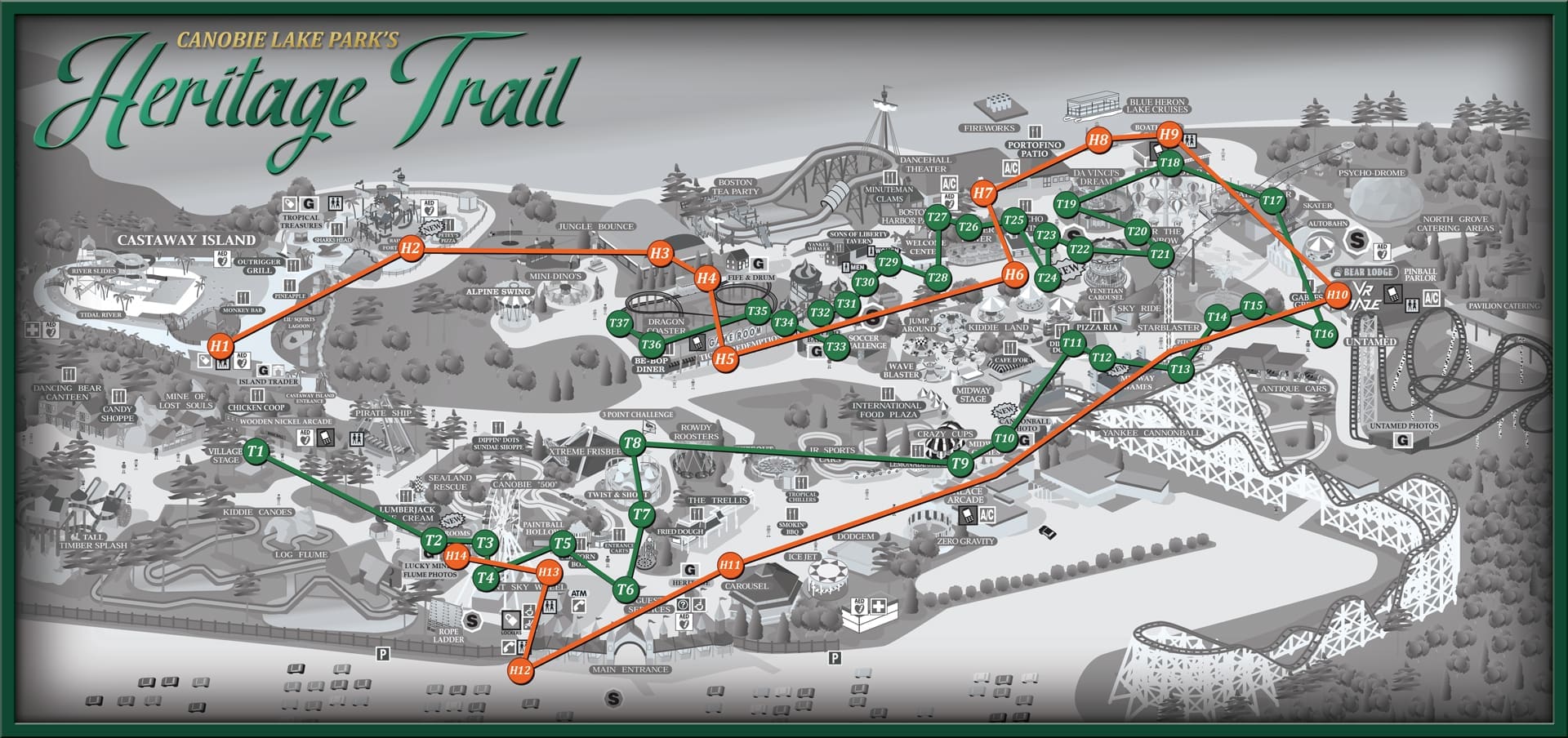 Heritage Trail
H1 - Original Trolley Entrance

The Massachusetts Northeast Street Railway Company operated the SP&H Lines (Salem, Pelham, & Haverhill).  The SP&H trolley line would end by traveling through these stone pillars on its way to the Canobie Lake Park Trolley Stop (located by the Game Room).

H2 – Castaway Island

Castaway Island was a multi-phase project to introduce a true water-play element to the Park's future.  For decades, the Olympic sized swimming pool that was located by the Park's entrance served this purpose.  In 2005, Castaway Island's rain fortress was installed featuring over 180 ways to get wet.  In 2018, the Park entered the next phase of Castaway Island by adding the Tidal River, Tots Pool, the River Slides, 4 food venues and private cabanas.

H3 – Skating Rink

The original Roller Rink was the area's official "date night" location.  Social gatherings, after school specials and skating lessons all took place under this giant roof until it was shuddered in the mid-1980s as guest focus shifted towards rides and attractions.  After serving as the Park's official storage building, the Rink was re-purposed to be a permanent staple for the Park's annual Halloween event, Canobie Lake Park Screeemfest.  The original blue roller rink floor may still be seen about half-way through each of the 2 haunted houses that operate in this building each Fall.

H4 – The Canobie Lake Hotel & Lover's Walk

The Canobie Lake Hotel sat adjacent to Canobie Lake Park in the early 1900's.  Patrons would enjoy their weekends at the Park while making a romantic weekend getaway complete with this lake-side lodge.  The path connecting the Canobie Lake Hotel to Canobie Lake Park was called "Lover's Walk".

H5 – Original Trolley Stop

The BeBop Diner and Game Room was the original trolley stop building where guests would unload from their journey to walk towards the entrance of Canobie Lake Park.  The original trolley tracks mimicked the Canobie Steam Engine tracks when it would travel the Park and end at the Upper Train Station turnaround.  The steam engine tracks were cut back to the South Grove to make room for the expansion of Castaway Island.

H6 – Original Park Entrance

You are standing near the site of the original entrance to the park as it was constructed in 1902. An old apple tree with a lookout was a popular meeting point for patrons. As depicted by copies of authentic postcards from that era.

H7 – Dancehall Theater

Built in 1936 by the Philadelphia Toboggan Company, the Dancehall Theater was one of the largest and most technologically advanced performance venues in the area.  Attracting highly sought-after performers such as Duke Ellington, Ray Charles, Jerry Lee Lewis, Diana Ross & the Supremes, Aerosmith, & the Beach Boys, Canobie Lake Park's Dancehall Theater became a well-known place to see and be seen.  One of the largest performances in the Park's history was when Sonny & Cher took the stage only months after their song "I Got You Babe" hit number one on virtually all music charts.

H8 – Canobie Lake

Canobie Lake was known over the years by four names.  Originally it was named Haverhill Pond, later it was designated Polis Pond for the famed Native American of this area and then it was known for years as Policy Pond.  In 1886 it was renamed Canobie Lake in honor of a town in southern Scotland (from at the edge of Megalopolis, 1974).

H9 – Boat House

Boating and canoeing were some of the key attractions when the Park first opened in 1902. The original Boat House still stands today, even having survived a fire in the past. When being remodeled in recent years to the original look and luster of days gone by, burnt and charred panels were found while removing layers of the roof.

H10 – Dancing Pavilion & Bowling Alley

The Dancing Pavilion was once the hottest spot in Salem.  This large, covered dance floor was remodeled with the installation of the Park's new Dancehall Theater in 1936 to become a quintessential New England bowling alley featuring candlepins.  Later, the Bowling Alley became House of Mirth, and is now known as Bear Lodge which houses a restaurant, virtual reality experience and a pinball arcade.

H11 – 1964 World's Fair Light & Trash Can

Many of the lamp posts and trash barrels that lined the midways of the 1964 World's Fair in New York were acquired and installed throughout the midways of Canobie Lake Park.  Although over time many had to be replaced, one featured set still remains standing proudly by the Park's oldest attraction, the 1800's Antique Carousel.

H12 – Relocation of Juniper Tree

Towering trees and lush greenery is something that Canobie Lake Park is proud of and not common in amusement parks today. During the construction of the Entrance Complex in 2006, an enormous Juniper tree was directly in the center of the construction area. Rather than removing the tree, a company from Michigan was tasked with digging and bundling up all the tree's roots, creating an elaborate trench, and then began the slow process of relocating the tree at less than half a mile per hour.

H13 – Swimming Pool

The original Olympic sized swimming pool was a staple at Canobie Lake Park for decades.  The pool catered to Canobie Lake Park Guests until its removal in 2005 to make way for the Park's new entrance complex.  When the pool was removed, it was discovered that there were several pools that had been layered within the pool as it was repaired many times throughout the decades.

H14 – The Green House

The current owners of Canobie Lake Park purchased the Park in 1958. A residential property affectionately known as the "Green House", was where they first lived when arriving in Salem, NH. As the Park grew, it grew around the large green house, with the Old Time Photo Emporium neighboring it. In its later life, the house was used to accommodate actors involved in the Park's shows during the operating season, most famously Bozo the Clown. By opening day in 2006, the house had been demolished and nothing but a patch of dirt was in its place.
Timber Trail
T1 – The Village Rock

This rock was marked to commemorate the original owners of Canobie Lake Park.

T2 – Weeping Blue Spruce

Picea pungens 'Pendula'

Weeping Blue Spruce has attractive silvery blue foliage. The needles on this spruce are highly ornamental and remain silvery blue throughout the winter. This tree is unique because of its pendulous growth pattern.  Planted September 1st, 2019

T3 – Hoopsii Blue Spruce

Picea pungens 'Hoopsii'

Hoopsii Blue Spruce has a clear silvery blue foliage. This tree has a dense pyramidal form. Foliage is one of the bluest blues in the spruce family. Growth is slow at first but on average can reach a height of 50'.

T4 – Japanese Maple

Acer palmatum japonicum

This elegant plant is very popular in Japanese styled gardens. There are over 1,000 varieties of this tree – they can produce so many different colors and shapes of leaves. Japanese Maples are monoecious – meaning they have both male and female flowers on the same plant. Some varieties can be found in dwarf size.

T5 – Northern Red Oak

Quercus rubra

The Red Oak is a medium to tall tree, reaching a potential height of approximately 60 to 90 feet at maturity. Acorns from this tree are first on the food preference list for Blue Jays, Wild Turkeys, Squirrels, Small Rodents, Whitetail Deer, Raccoons, and Black Bears. Native Americans used Red Oak for medicines to treat a variety of ailments, including skin infections, digestive disorders, and respiratory diseases.

T6 – Douglas Fir

Pseudotsuga menziesii

These trees are very popular, and their wood is used in many products and applications. The timber is particularly well suited to the construction of roller coasters because it is extremely strong, available in long lengths, and has a natural resistance against decay. Some Douglas Firs can grow up to 300 feet tall and have a trunk diameter of 15 feet.

T7 – Japanese Red Pine

Pinus densiflora

A majestic specimen with its widespread arched branches with plumes of green needles and orange to orangish-red bark peeling off in plates.  Its rounded, horizontal spread will become a more flattened crown with age. This pines home range includes Japan, the Korean Peninsula, northeastern China, and the extreme southeast of Russia.

T8 – Eastern Hemlock

Tsuga canadensis

The Eastern Hemlock is a graceful native evergreen tree. The needles are flat and green above with white, shallow bands on the underside. Does best in cool damp locations. These trees are currently under attack from an exotic sap-sucking insect that originated from Asia. Hemlock Woolly Adelgid is a small insect known for the white, cotton-ball like masses that indicate infestation.

T9 – Slippery Elm

Ulmus rubra

Slippery Elm is named for its inner bark, which is moist and sticky. Native to eastern North America, ranging from Southeast North Dakota, East to Maine and southern Quebec, South to northernmost Florida, and West to eastern Texas.

Native Americans used various parts of the tree for a wide range of medicines, and the ground inner bark was once used to prevent scurvy. The inner bark is still used in the preparation of some throat lozenges.

T10 – Norway Maple

Acer platanoides

Native to Europe, the Norway Maple was introduced to North America around 1756. Tolerant of pollution and drought, by the mid 20th century it was the most frequently planted in towns and cities. Norway maples have now been designated an invasive species because it has encroached on natural forests where its dense shade prevents young Sugar Maples from growing.

T11 – Pitch Pine

Pinus rigida

Pitch Pine or also known as Black Pine, is a 40 to 70 foot evergreen with an irregular, globular form; gnarled, twisting, drooping branches; and scaly, reddish-brown bark which eventually becomes black. Pitch Pines are salt tolerant. They are able to survive on the driest, sandiest, most unproductive sites. Native to eastern North America, from central Maine south to Georgia and as far west as Kentucky. Colonists produced turpentine and tar used for axle grease from this species.

T12 – Black Oak

Quercus velutina

The Black Oak is a species of oak in the red oak group, native and widespread in eastern and central North America. The bicolored, mature leaves contrast nicely with unique black, furrowed bark. Fall foliage is orange or red.

T13 – Common Purple Lilac

Syringa vulgaris

The Purple Lilac is the New Hampshire state flower. This type of Lilac emits one of the most powerful fragrances emitted by any plant. Purple Lilac are native to Asia and Europe, and were imported to the United States in 1750.

T14 – American Sweet Gum Tree

Liquidambar styraciflua

One of the most spectacular fall color in landscaping. The five lobed leaves are finely toothed, paler underneath and have little white hairs along the primary veins. Sweet Gum received its name from its fragrant resin, which has been used for chewing gum. You can get a whiff of the pleasant odor by crushing a leaf.

T15 – Rivers Purple European Beech

Fagus syvatica 'rivers'

This distinctive deciduous tree, noted for its protective canopy, commemorates the centennial anniversary of Canobie Lake Park and was planted August 23, 2002.

T16 – River Birch "Heritage"

Betula nigra

The River Birch is a handsome tree for parks and other large areas. It displays a light reddish brown cinnamon bark that gives it the look that the birch family is noted for. The River Birch has dark green foliage in summer and turns a golden yellow in fall.

T17 – Sugar Maple

Acer saccharum

Sugar Maples are an important source of maple syrup, maple sugar, and its hardwood lumber is useful in furniture manufacturing and flooring. The leaf of the Sugar Maple is the national emblem of Canada. This particular tree is older than Canobie Lake Park, making the tree over 120 years old.

T18 – Red Maple

Acer rubrum

This well-known American species is abundant in both swamps and upland forests. The flowers are deep red due to their red stain and young wings of the fruit. Its wood is used in the construction of furniture, gun stocks, and cabinets.

T19 – American Planetree

Platanus occidentalis

A large deciduous tree that may grow 75 to 100 feet tall with a trunk diameter of 12 feet or more. It is one of the largest hardwood trees, by diameter, in North America.  The wood is used for furniture parts, flooring, and specialty products such as butcher blocks, as well as particleboard, pulpwood, and fiberboard. This tree is very interesting to look at especially as it grows in age due to its camouflage-like bark.

T20 – Northern Catalpa

Catalpa speciosa

The term Catalpa predates our early settler's usage of the Cherokee Indians term for this tree. It develops into a soft wood, and about ninety percent of all Catalpa wood is used in the manufacture of fence posts. Generally the bark on the trunk of an Catalpa appears to be twisted as if someone was trying to screw the tree into the ground. This is a great pollinator tree.

T21 – Kwanzan Cherry

Prunus serrulata (var)

In May this tree produces big clusters of deep pink flowers. Commonly found in parks and gardens, its large leaves contrast beautifully with its colored flowers.  It is also known as the Hisakura Cherry.

T22 – Eastern White Pine

Pinus strobus

Also known as Bull Pine or Pasture Pine: a very old, large, white pine. These are the oldest trees you can see along the Heritage Trail. This particular grove is older than Canobie Lake Park, making the trees over 120 years old.

T23 – Bradford Pear

Pyrus calleryana

Also known as Callery Pear, this tree is an extremely popular, pyramidal small tree with profuse white flowers in spring and glossy green leaves all summer that turn red or purple in Fall.

T24 – Apple

Malus domestica

Flowers mid spring, delicate pink with white clusters, apples come in many different shapes and colors. The Apple tree originated in Central Asia, where its wild ancestor, Malus sieversii, is still found today. The fruit may be round or elongated, large or small. This is a great pollinator tree.

T25 – White Oak

Quercus alba

The bark of a White Oak is light ashy gray, scaly or shallow furrowed, often broken into small, narrow, rectangular blocks and scales. The leaves are dark green to slightly blue-green in summer. Acorns are produced typically when the tree is between 50-100 years old. Oaks are wind pollinated. The fall foliage can be showy. The acorns on a White Oak are sweet, where the acorns on lack and red oaks are bitter.

T26 – Golden Rain Tree

Koelreuteria paniculata

One of five memorial trees from ancient China. The compound leaves are about a foot long with 7 to 15 leaflets which are deeply lobed or serrated. Yellow clusters of flowers appear in early July. The foot long clusters of yellow flowers can be used for making dye.

T27 – Laurel

Kalmia (var)

As the symbol of fame and recognition, Laurel is frequently found in crown wreaths at sporting events. The leaves emit a sweet odor which tends to leave a lingering fragrance in the air. As a spice it is also known as Sweet Bay.

T28 – Rhododendron

Rhododendron (var)

This broadleaf evergreen shrub is noted for its large, showy flowers which blossom in early summer. You can still find Rhododendrons that were planted circa 1902, dating some of them among the original flora of the park.

T29 – Littleleaf Linden

Tilia cordata

This tree features heart-shaped leaves that are lopsided at the base. Leaves are usually 2–3″ long with somewhat saw-toothed margins. The flowers are fragrant and creamy yellow clusters that blossom in the summer. The fruit is a small hairy nutlet. The Littleleaf Linden is a native of Europe to Western Siberia and Iran. The tree dates back to 760 AD.  This is a great pollinator tree.

T30 – Weeping Alaskan Cedar

Chamaecyparis nootkatensis 'pendula'

A graceful, pyramidal, weeping evergreen that can reach 60 to 90 feet in the wild but stays within a height of 35 feet and a spread of 20 feet in cultivation. The trunk remains dominant and straight throughout the life of the tree. The branches are long, pendulous, and flattened; also, the needles are scalelike with a grayish-green or bluish-green color.

T31 – Umbrella Pine

Sciadopitys verticillata

This tree was mis-identified as a member of the Pine family in 1775. It is a unique species unto itself. Not only is the Umbrella Pine an unusual sight in this region, this particular tree is quite rare for the greater Salem area because of its enormous size and great age.

T32 – Crimson King Norway Maple

Acer platanoides 'Crimson King'

A large, handsome tree with leaves of deep crimson purple. The flowers are deep yellow, tinged with red. These trees are considered invasive because of the amount of winged fruit they produce.

T33 – Purple Fountain Beech

Fagus sylvatica 'Purple Fountain'

The Purple Fountain Beech is a hardwood tree that grows upright and narrow. American colonists used American Beech leaves as stuffing in their mattresses and pillows.  This Weeping Beech has cascading branches and deep purple foliage. The smooth gray elephant hide-like bark gets greater every year as its trunk grows in size.  Planted May 24th, 2019

T34 – Kousa Dogwood

Cornus kousa

The Kousa Dogwood is native to Japan, Korea, and China. In summer it gets star shaped creamy white bracts that persist for several weeks. In fall it turns reddish purple, with attractive ball-shaped red fruit.

T35 – Yoshino Cherry

Prunus × yedoensis

A graceful, small to medium-sized deciduous tree with matching branches, it bears a profusion of almond-scented, blushed, single flowers in Spring. In 1912 Miss Eliza Scidmore, a well known authority on Japanese subjects, and the Japanese consul Dr. Takamine met with Mrs. William Howard Taft, president Taft's wife. After this meeting Tokyo presented the City of Washington DC with 2000 flowering Cherries of 12 different  varieties. There were 800 planted around the tidal basin of the Potomac River and along the east and west drives.

T36 – Eastern Red Cedar

Juniperus virginiana

This tree is actually a Juniper, as its botanical name indicates. True cedars belong to the Cedrus genus and are not native to this country. The fragrant, scale-like foliage is sticky to the touch and can be fine-cut or coarse. It varies in color from dark green or gray to blue-green.

T37 – Thornless Honeylocust

Gleditsia triacanthos f. inermis

A fast-growing tree with fragrant spring flowers. Tiny leaflets turn yellow or yellow-green in fall. Pollution, salt, and drought tolerant, making it a good street and city tree. The first scientific observations of this species were made in 1700. The Cherokees in Tennessee made bows from the tree's durable and strong wood. It has also long been a favorite for fence posts.