AS THE LEGEND GOES…
Cano, the Goddess of Tides and Queen of Water reigned supreme. While traveling her coastal domain, a vision appeared in a tide pool telling her that her world would soon be lost. She was to take her three children, Earth, Air, and Fire, to a secluded oasis. Cano touched her finger to the sea and created an island. Over this island she placed Kanaloa, an octopus of protection. She then captured the sun and placed it beneath the octopus to create paradise.
Cano needed to send word to her three children to come to the island. She carved directions to this new home on the Tablet of Earth, the Tablet of Air, and the Tablet of Fire.
Cano, Earth, Air, and Fire all lived on this island for thousands of years in peaceful harmony. Cano created a water oasis, Earth created beautiful grounds, Air created a summer breeze, and Fire created the food that would sustain them forever.
Thousands of years later the tablets were found. Archeologists have been working for centuries to decipher the location of this cast away island and they are close. Kanaloa and the Tiki Guardians will ensure this oasis is preserved for all of time.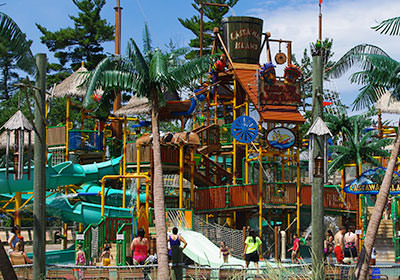 The Rain Fortress
The "Original" Castaway
Open 10:00am-6:30pm daily
The "original" Castaway Island Rain Fortress features over 180 ways to get wet including 9 water slides, endless mazes of ropes, bridges and interactive elements AND a giant tipping bucket at the top! Castaway opens from 10:30am-6:30pm, weather and temperature permitting.
The opening date for the new Castaway Island Expansion has not yet been determined but will be at some point this summer! Check back for details.
WHAT'S NEW?
Canobie Lake Park's Castaway Island is expanding into a water park for 2018!!  We are adding a tidal river (think lazy river but with waves), a 60′ tower with three water slides, The lil' Squirts Lagoon, 12 private cabanas, a new restaurant, a tiki bar, new changing facilities and more!!  This is all sitting to the left of the current Rain Fortress at Castaway Island with over 180 ways to get wet!
Note: There is currently no exact opening date for the new sections of Castaway Island, but we will update here as we know more.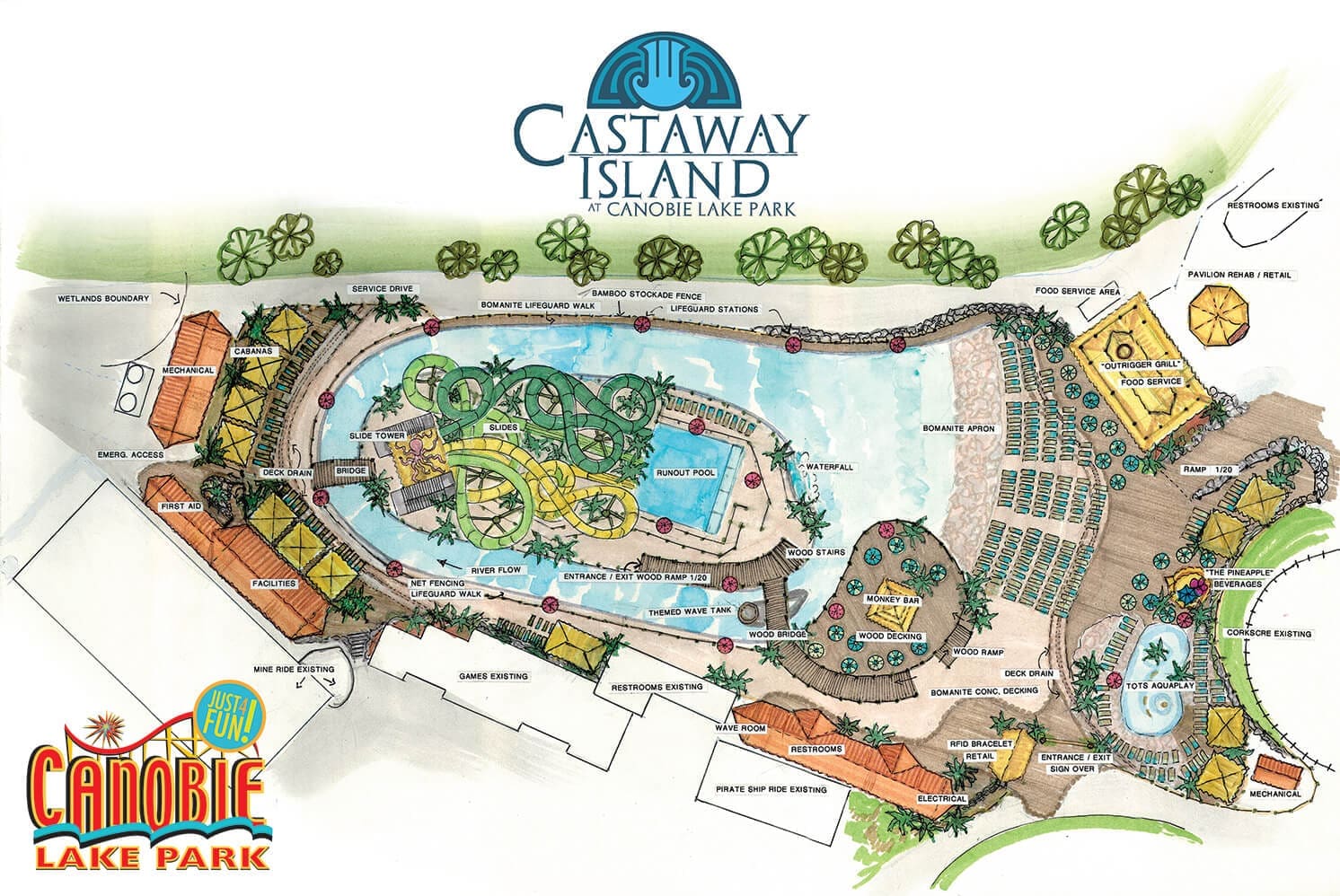 PROJECT UPDATES
As we progress in the construction of our brand new water park expansion, we will post updates with pictures and videos below!
7/14/18
The fountain is ready and way more painting, staining, and carving have been completed.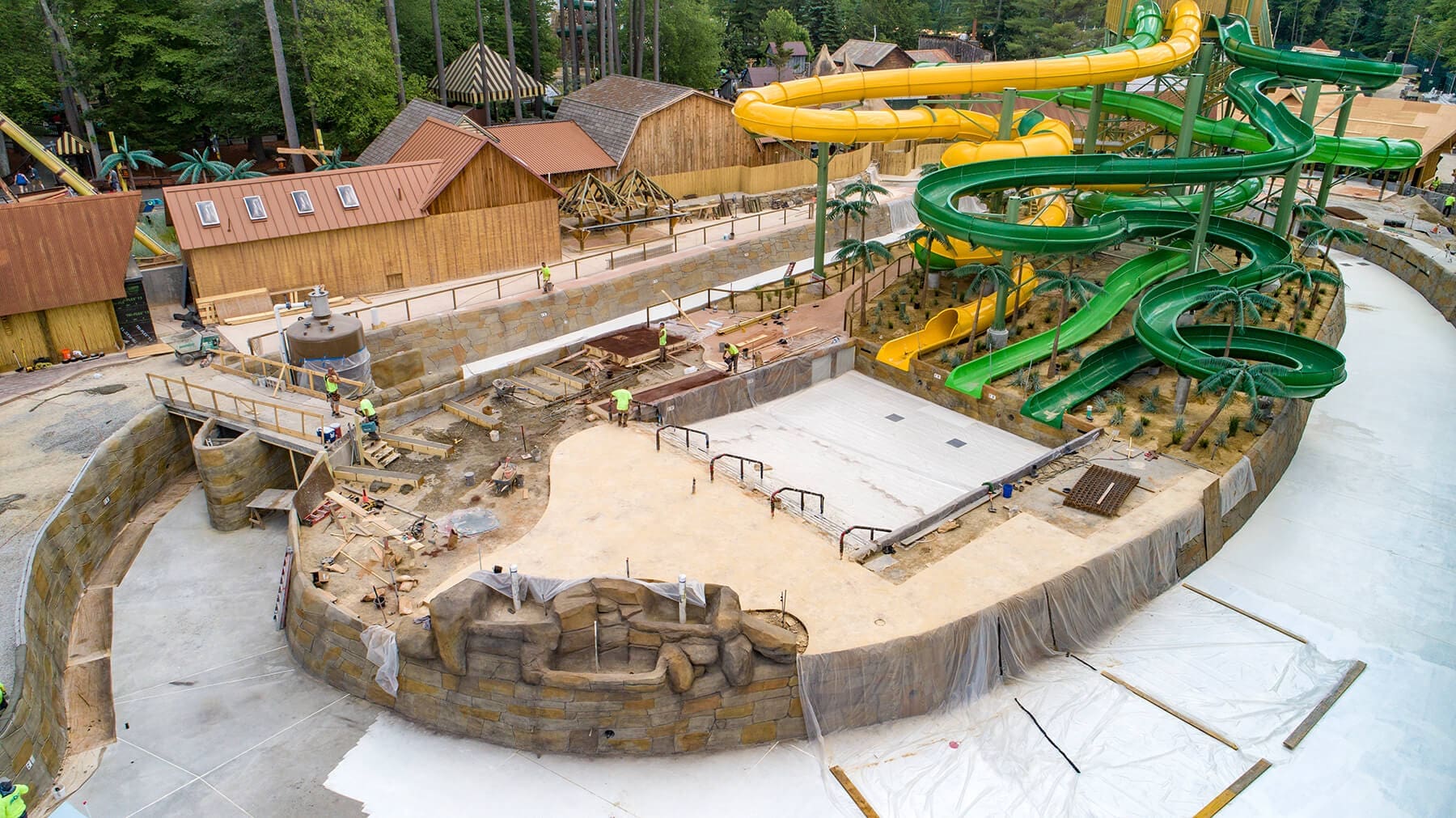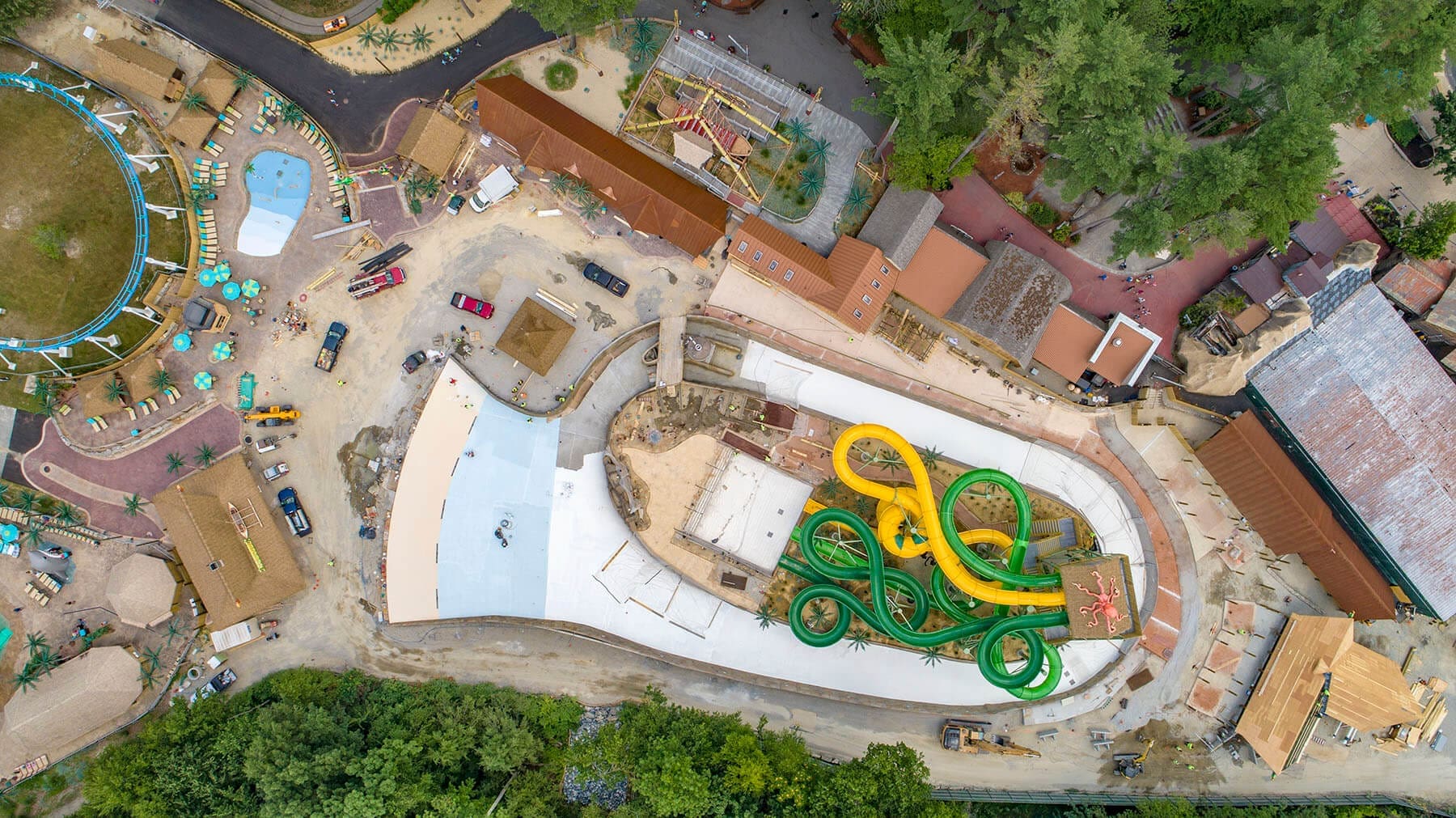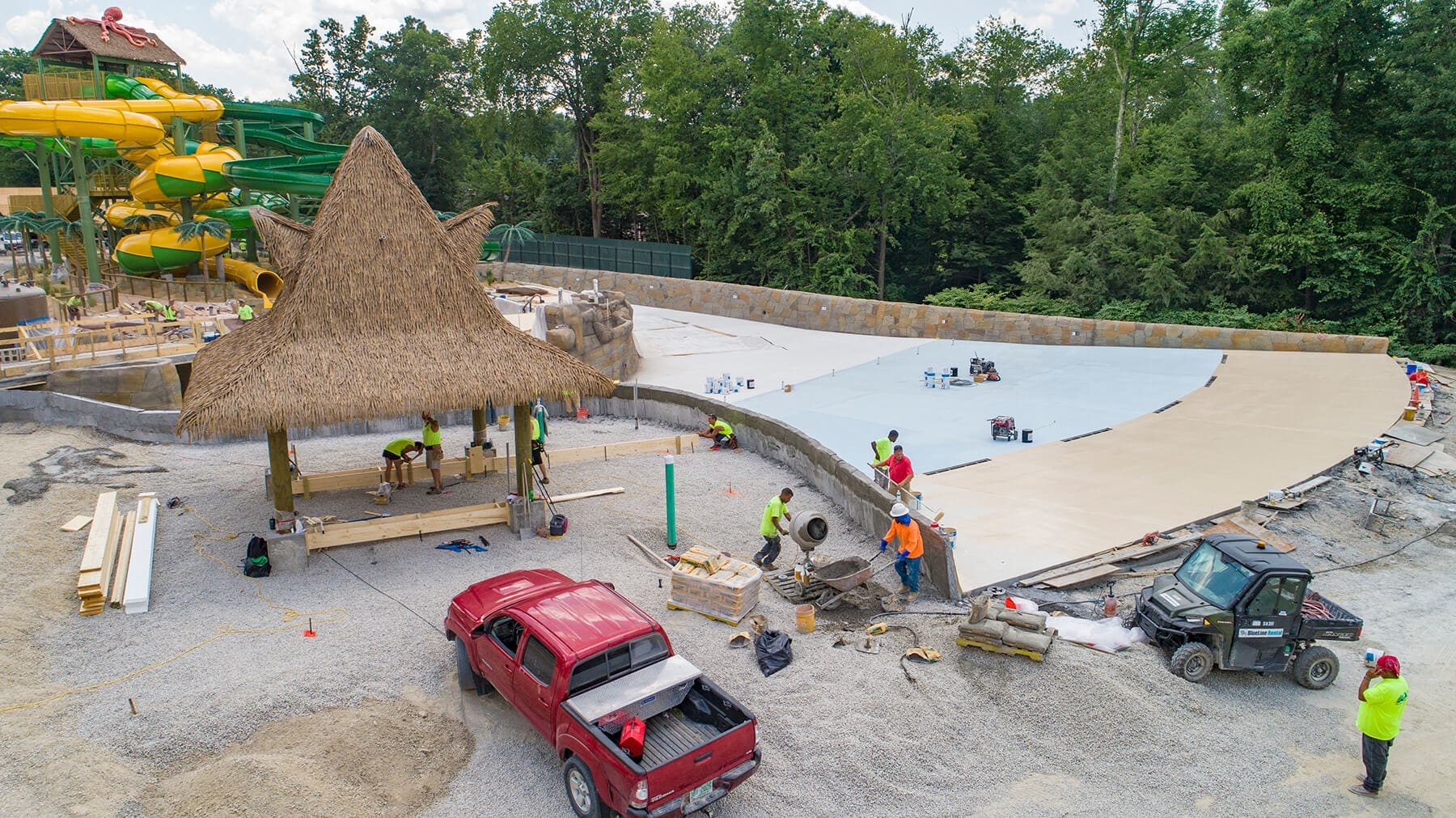 7/6/18
Way more concrete has been put into place.  Finishing the carving of the waterfall and then painting all of the stonework. We still have quite a bit to do so there is no definitive opening date set… but stay tuned!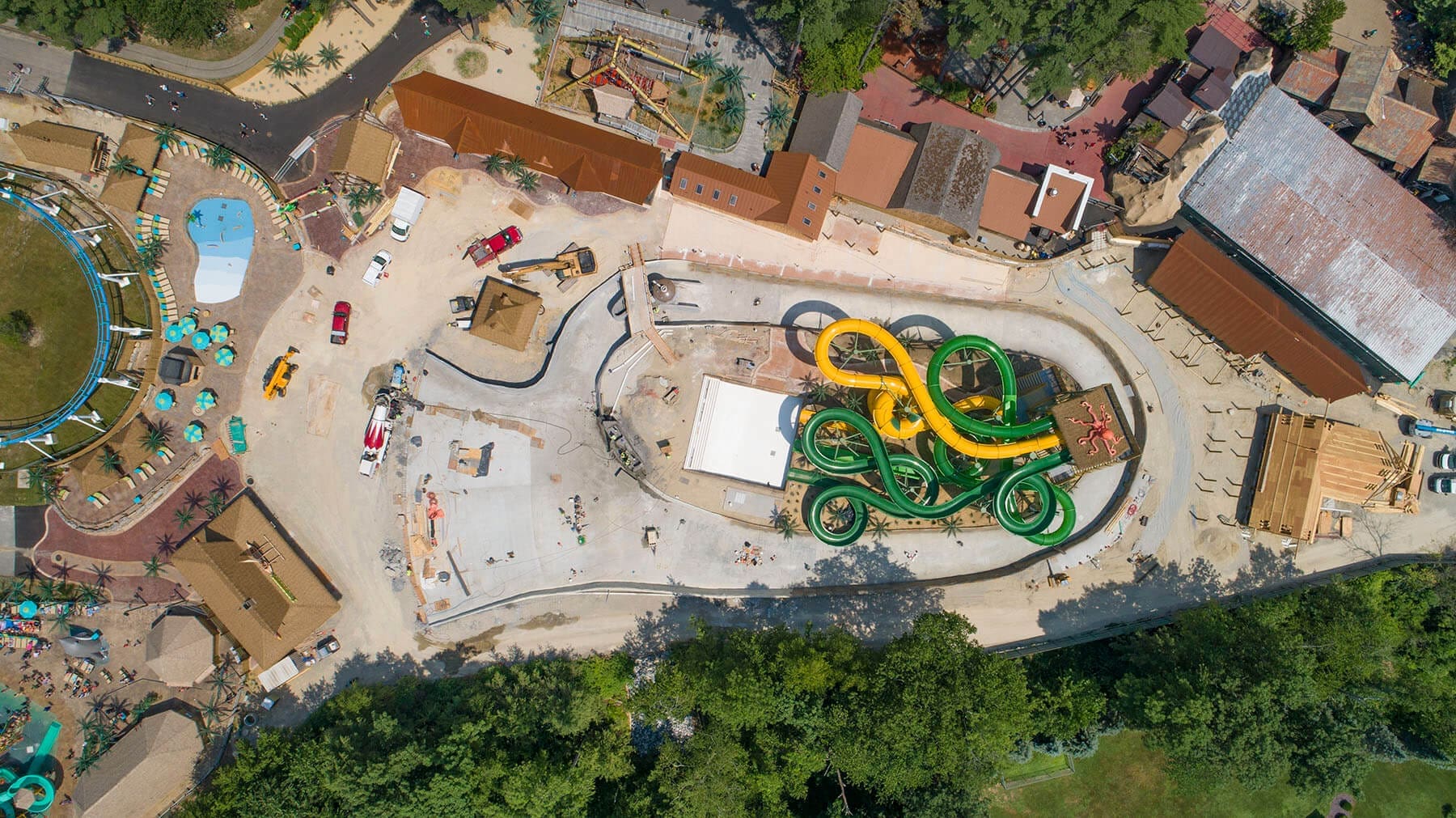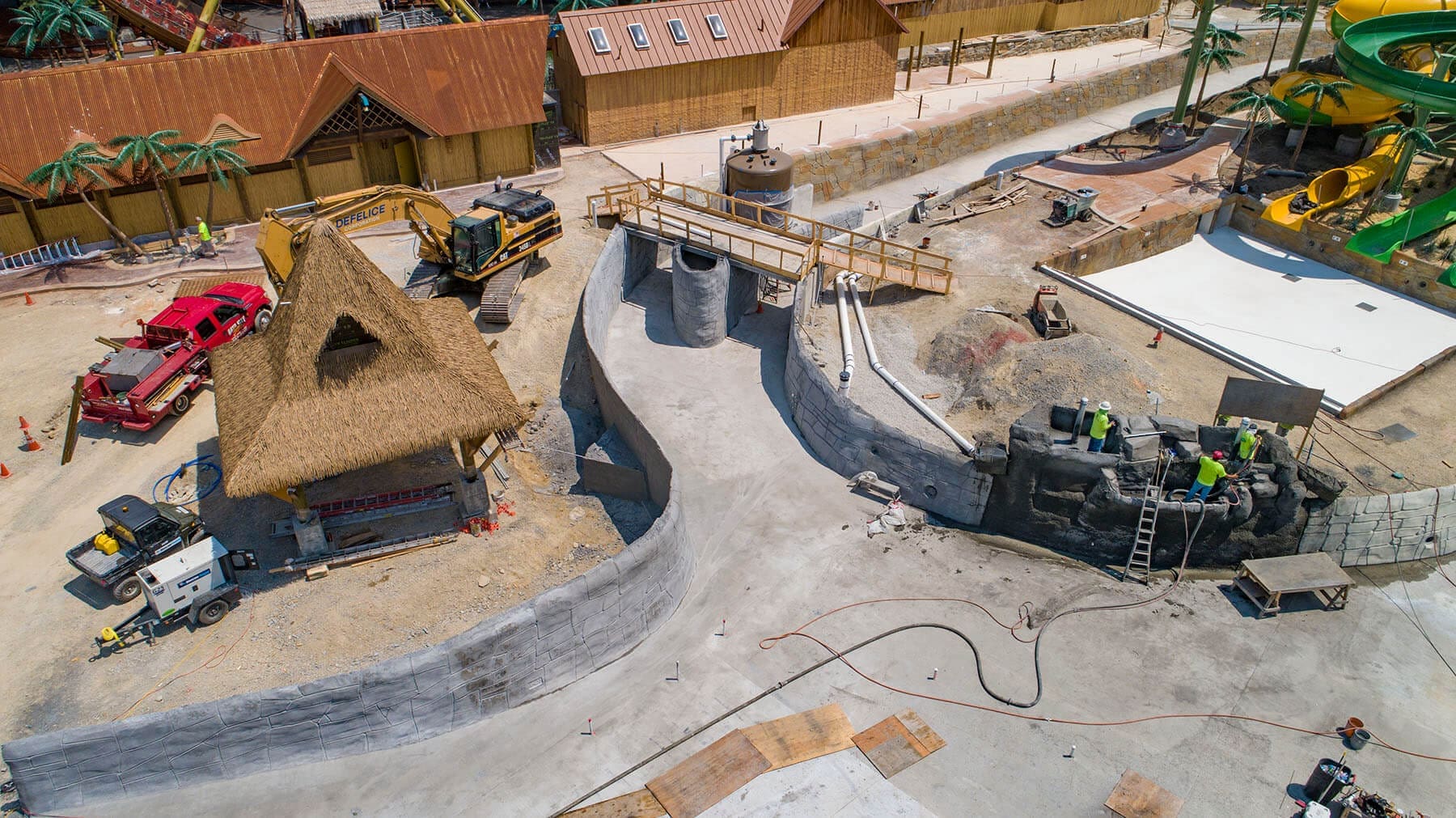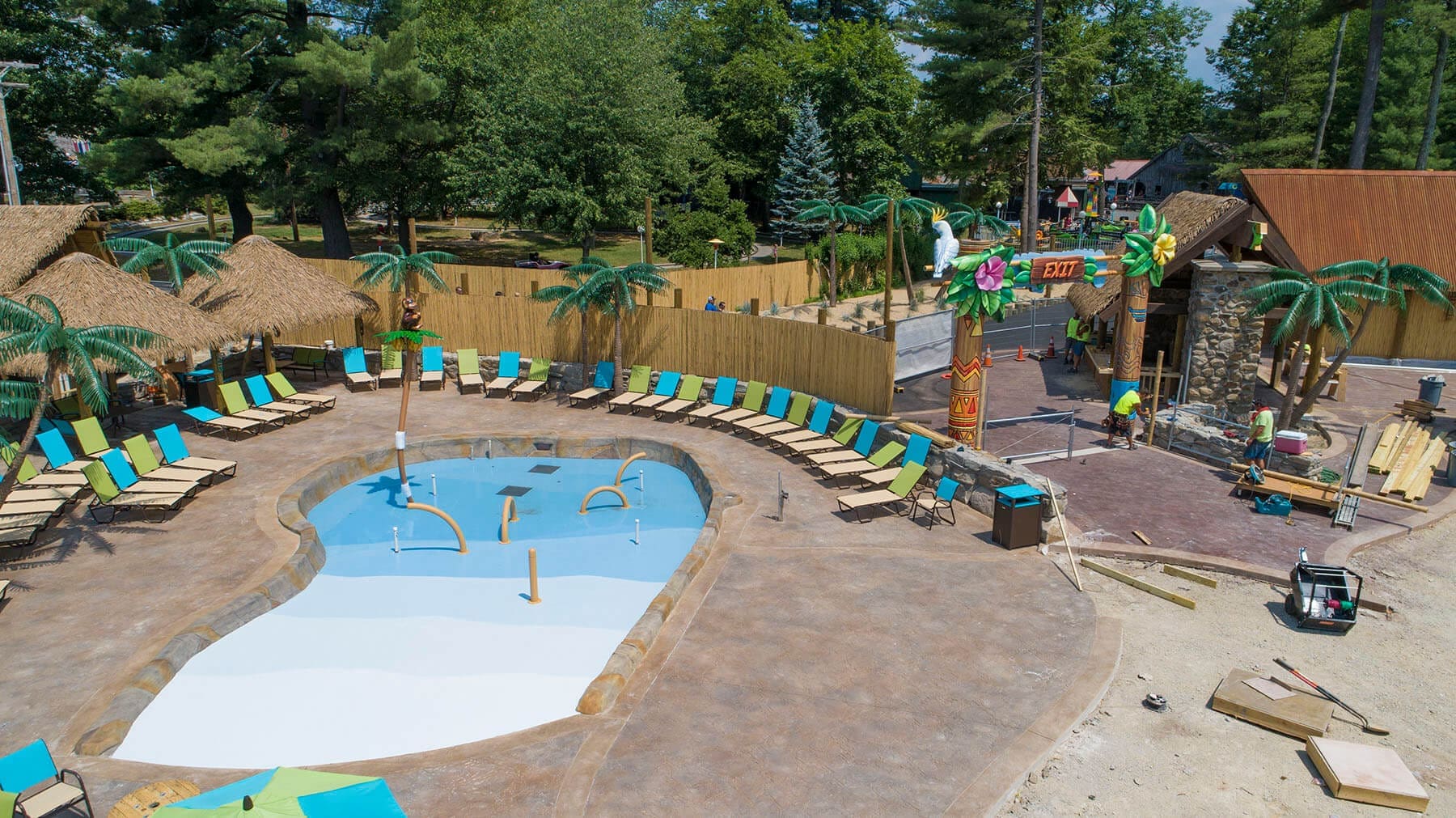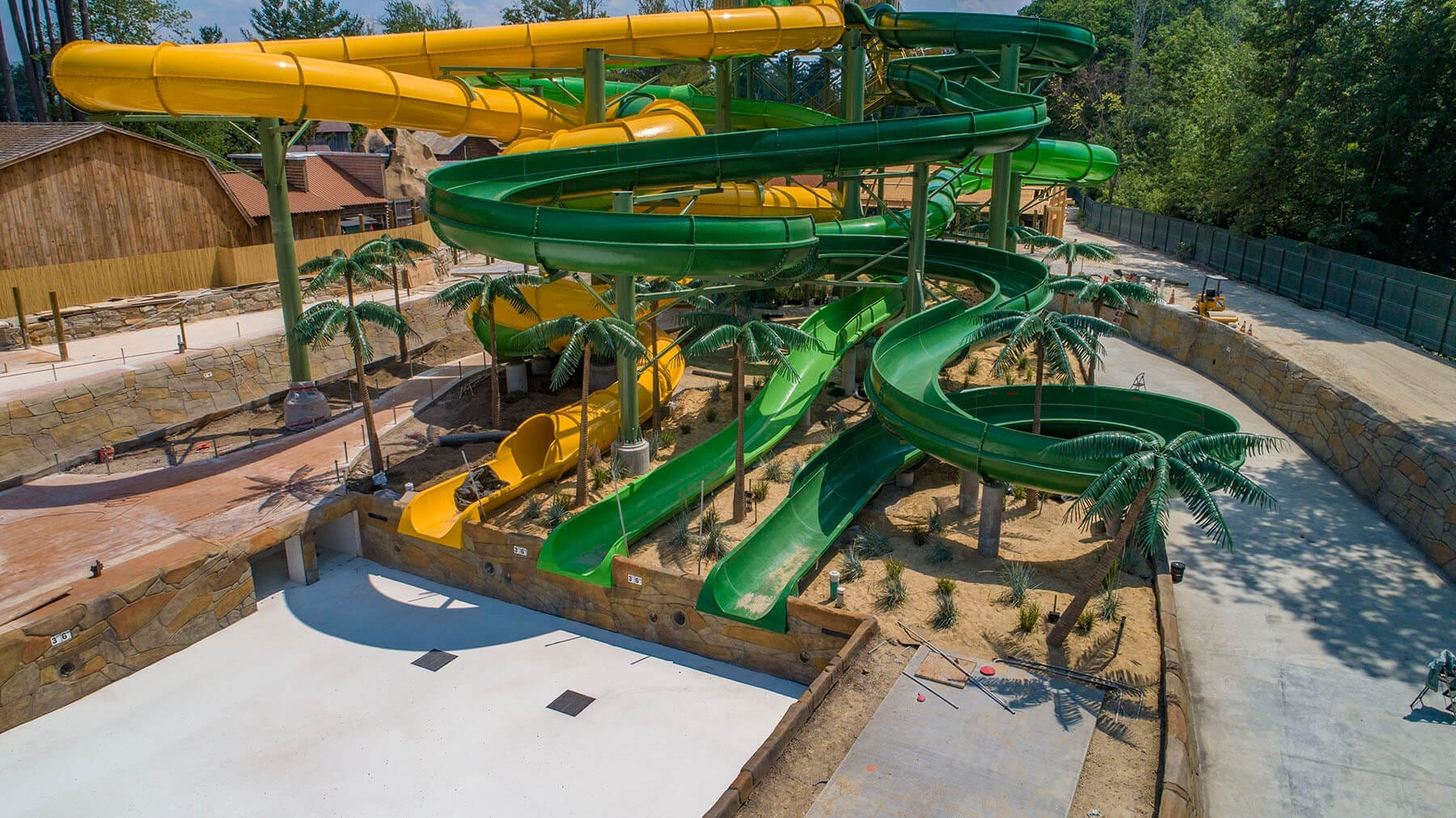 6/29/18
Lounge chairs are starting to go out and most of the carving has been completed on the river.  Plus, the entrance signage is now up!  We still have quite a bit to do so there is no definitive opening date set… but stay tuned!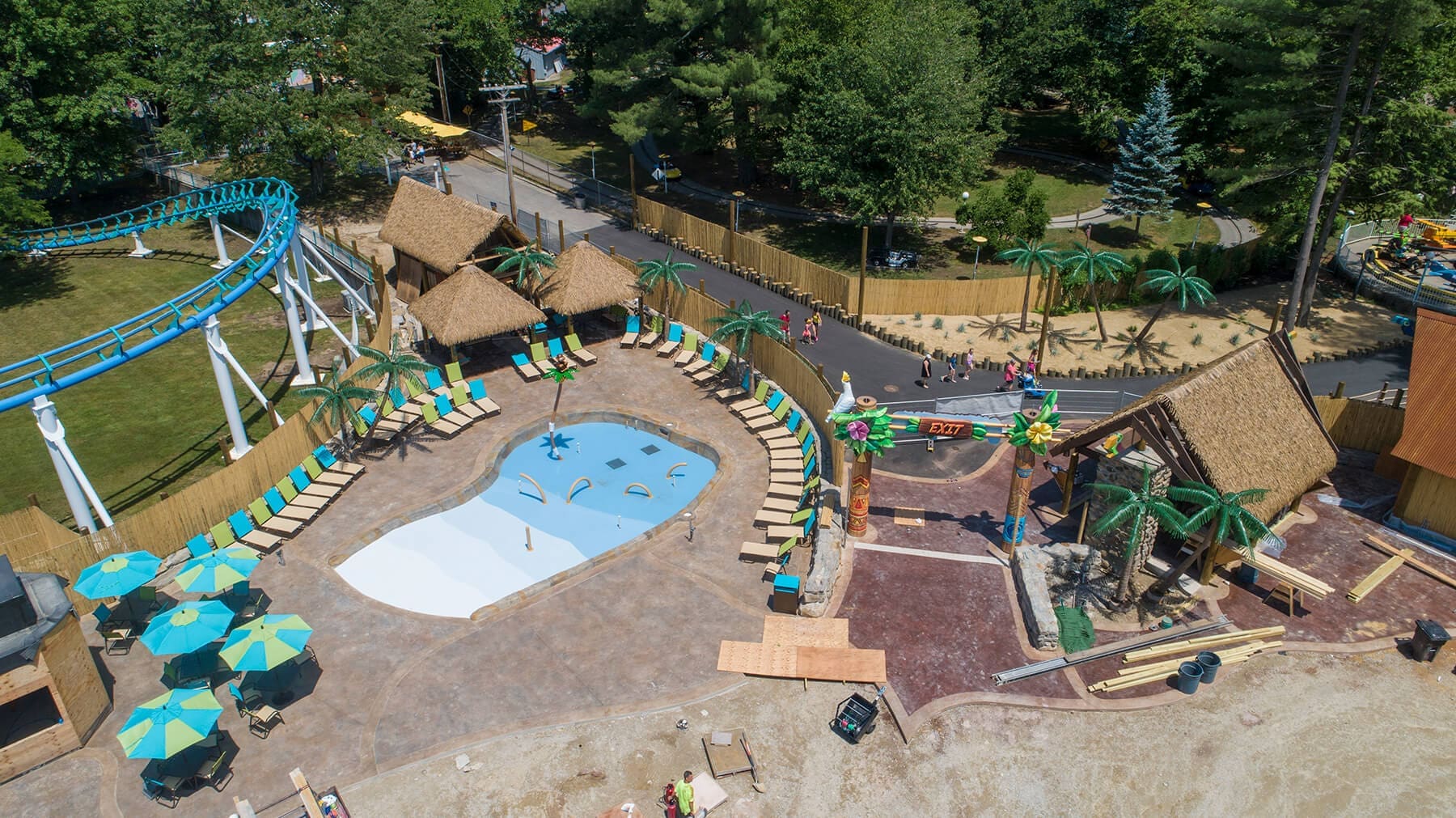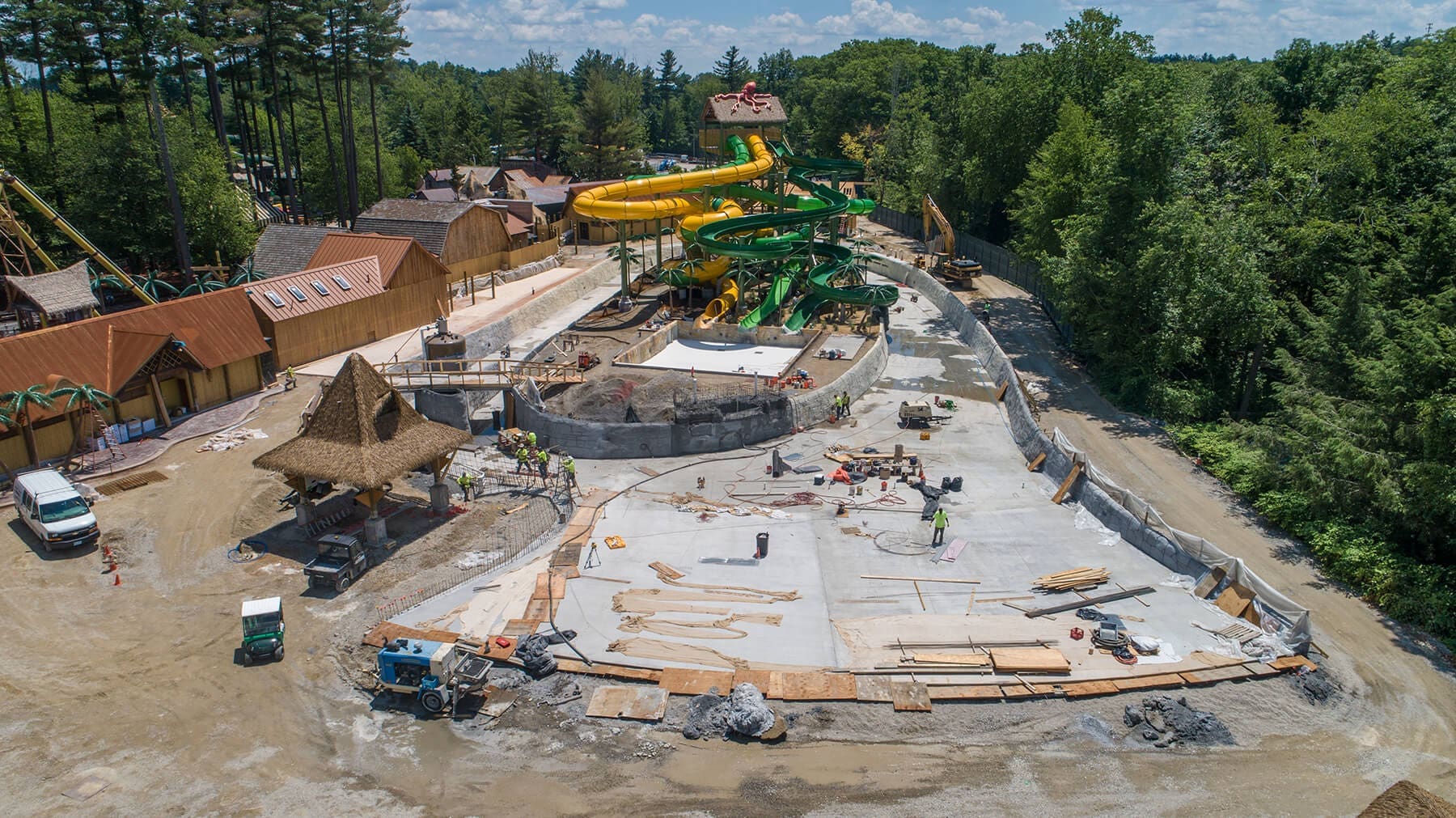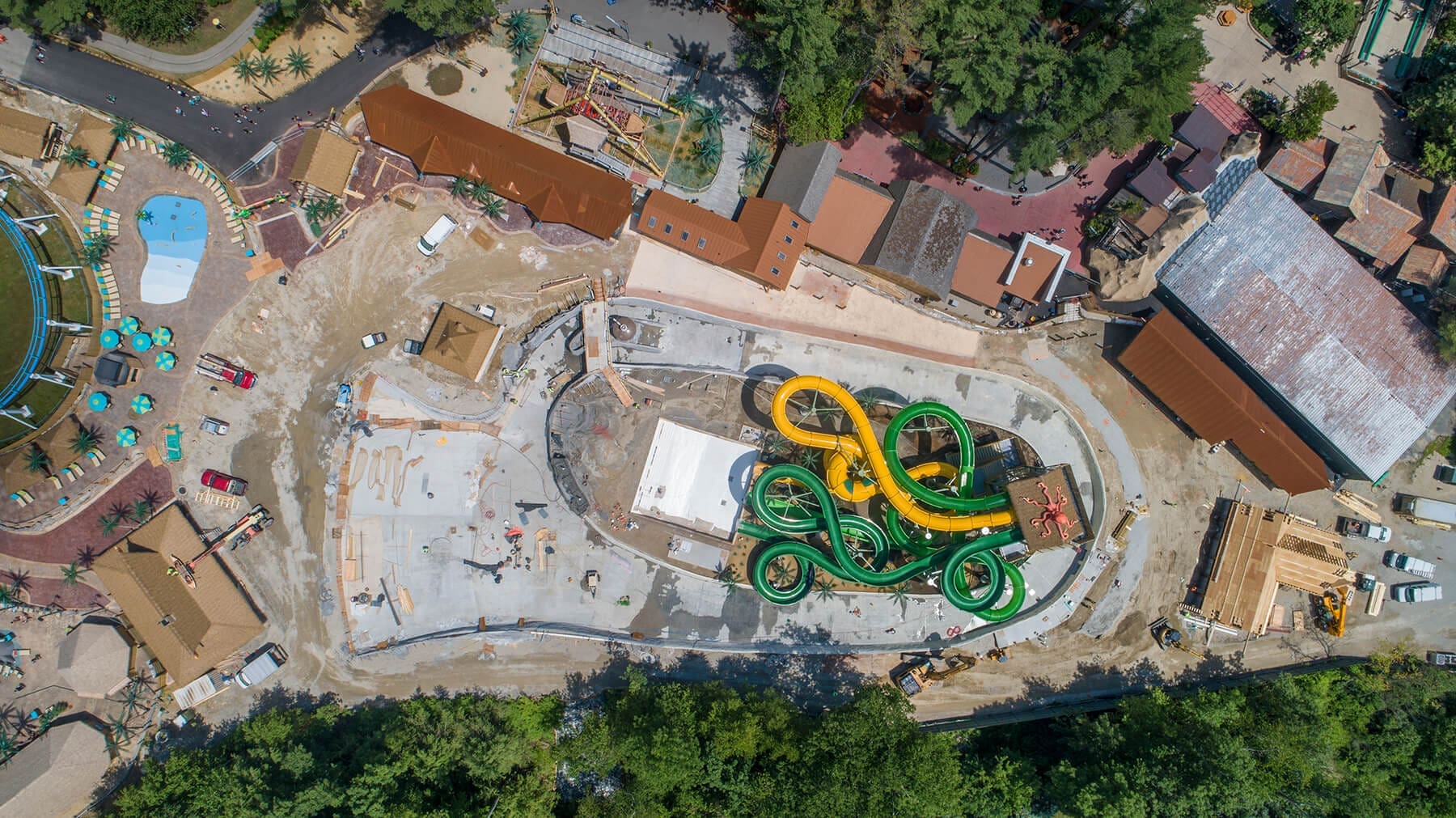 6/18/18
More concrete has been installed, the Monkey Bar is being framed, and the tots pool is coming along.  The zero entry wave pool river entrance is starting to look real!   While we do not have an opening date scheduled, we will update you later this summer!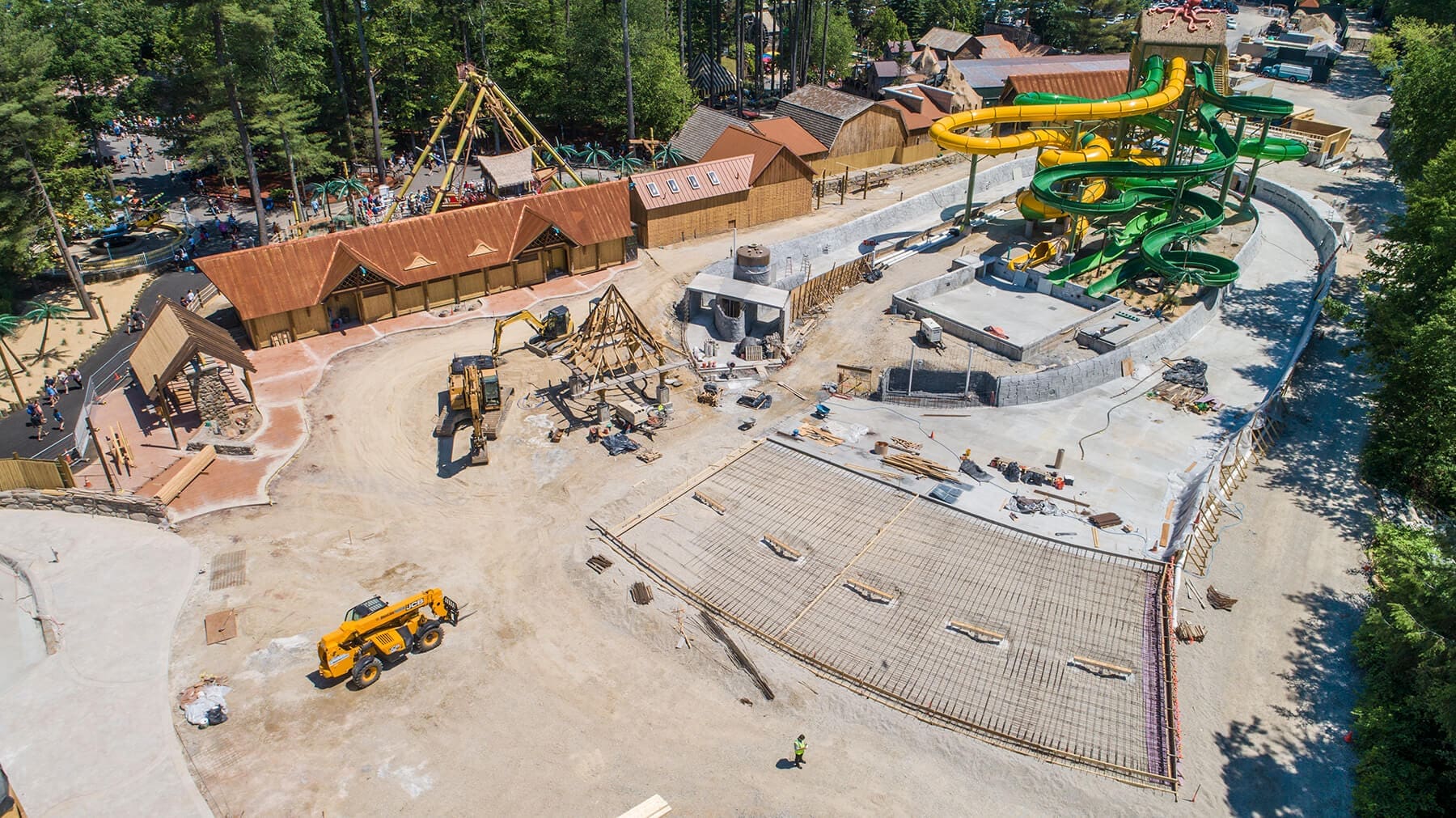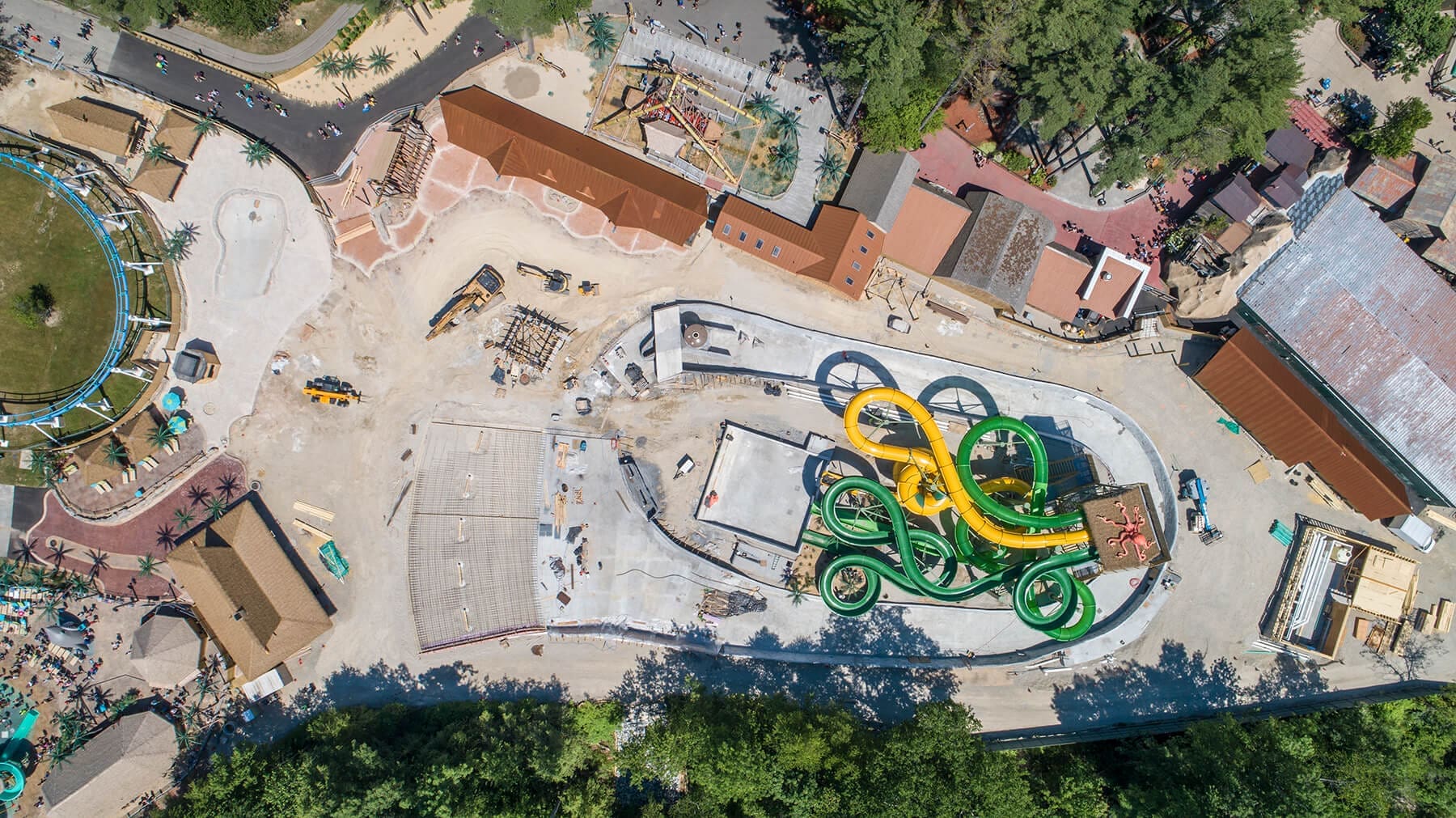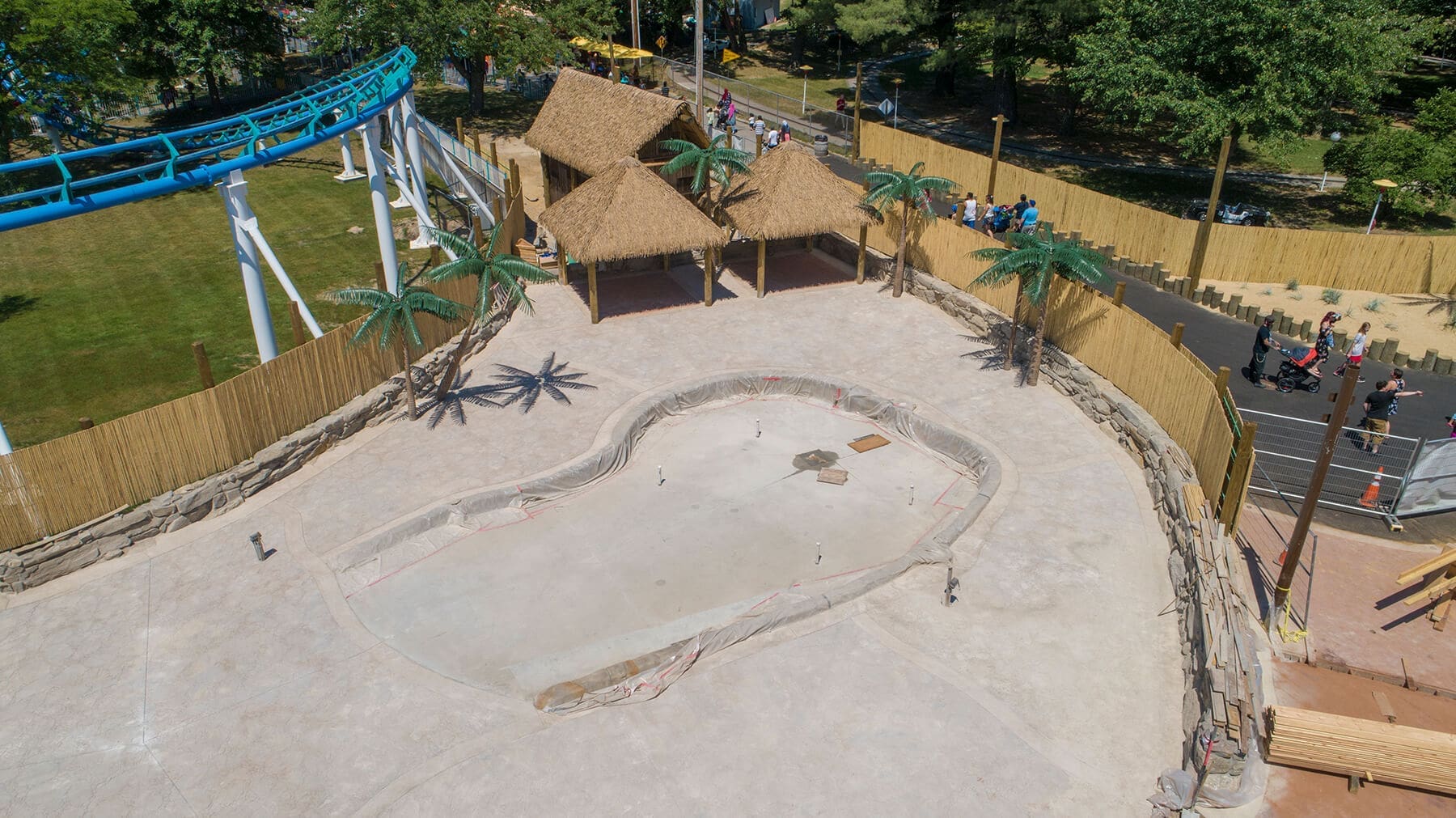 5/26/18
The Octopus, "Kanaloa", arrived today and was hoisted to the top of the River Slides tower! The cabanas are looking awesome… feels like summer!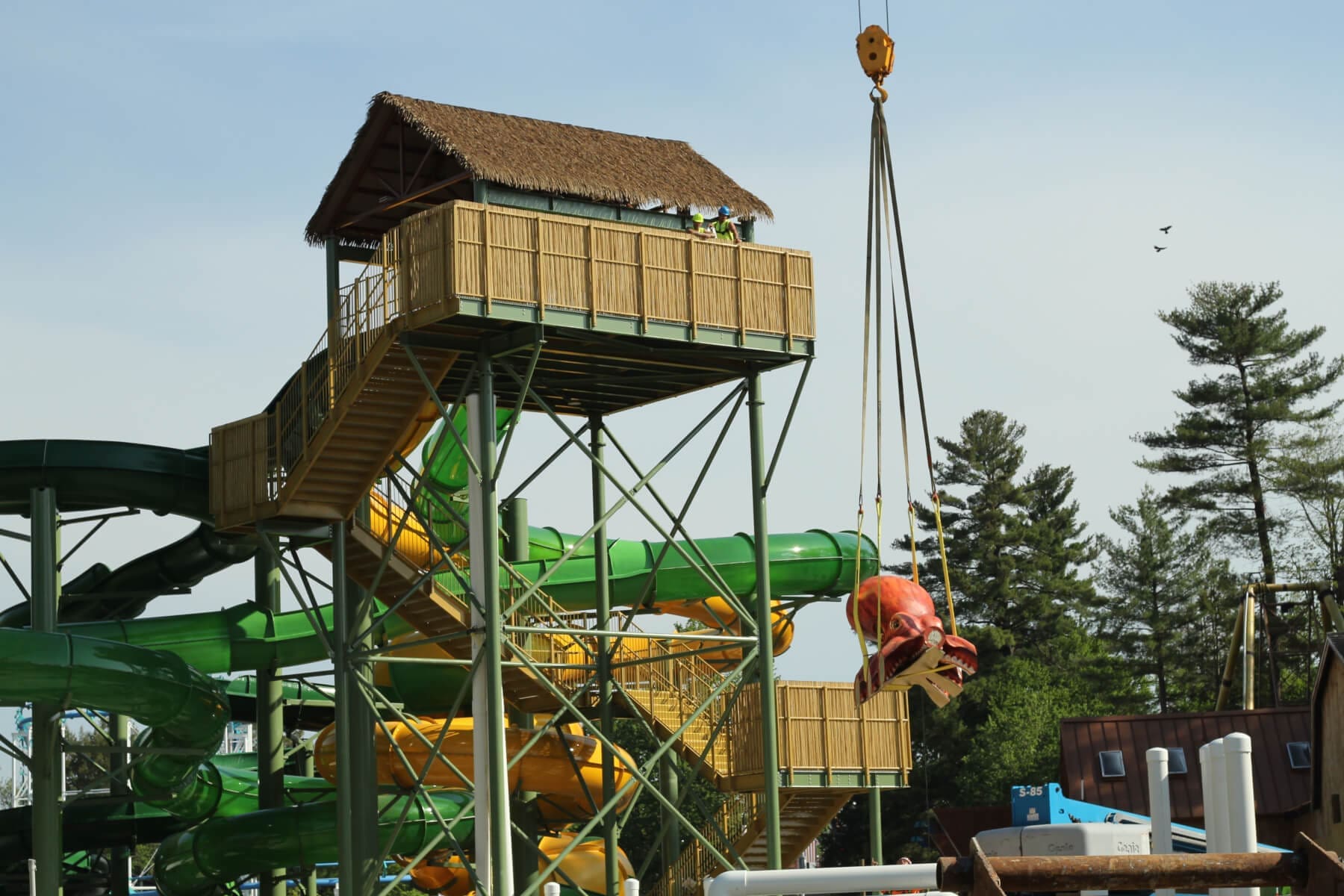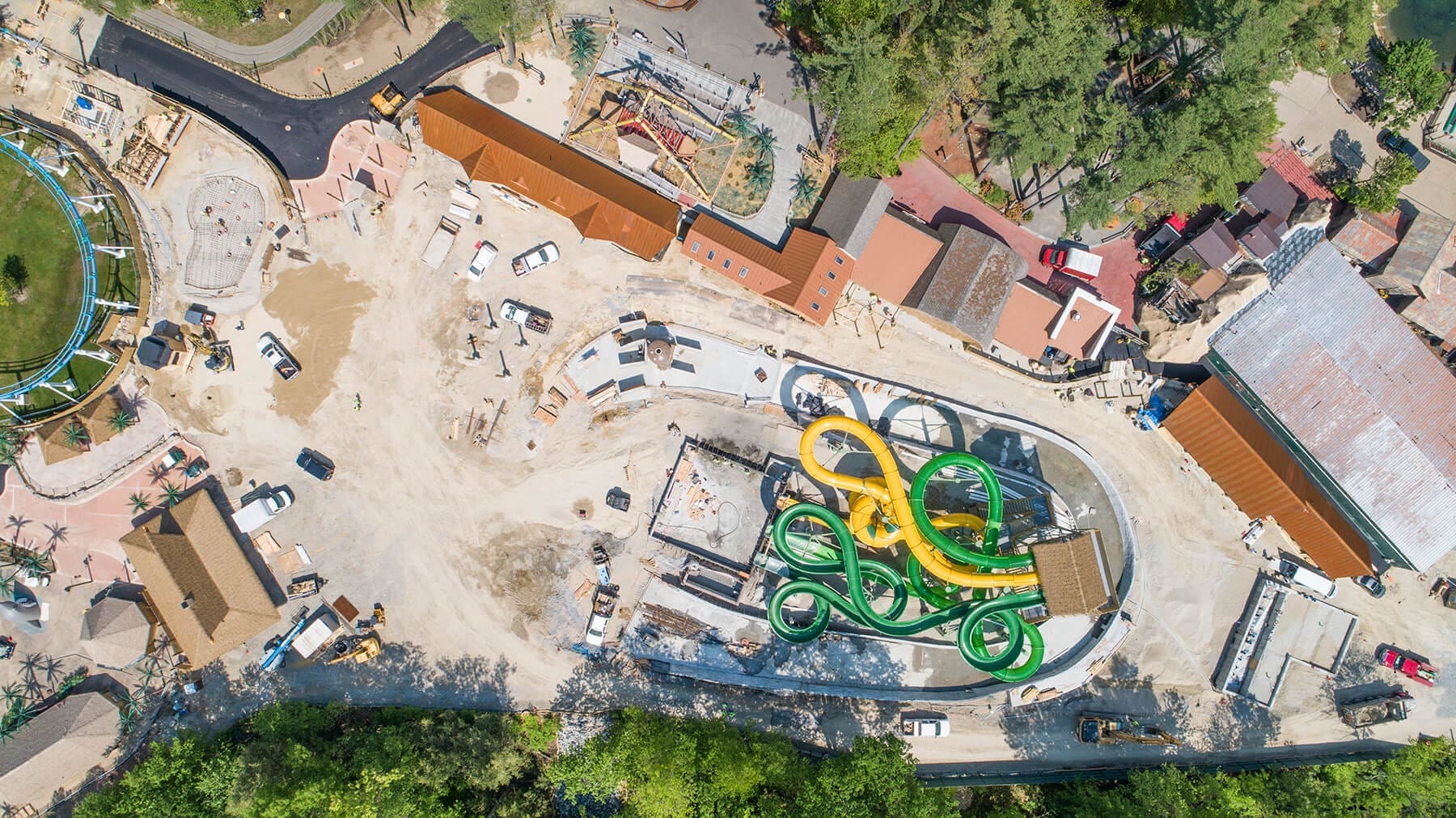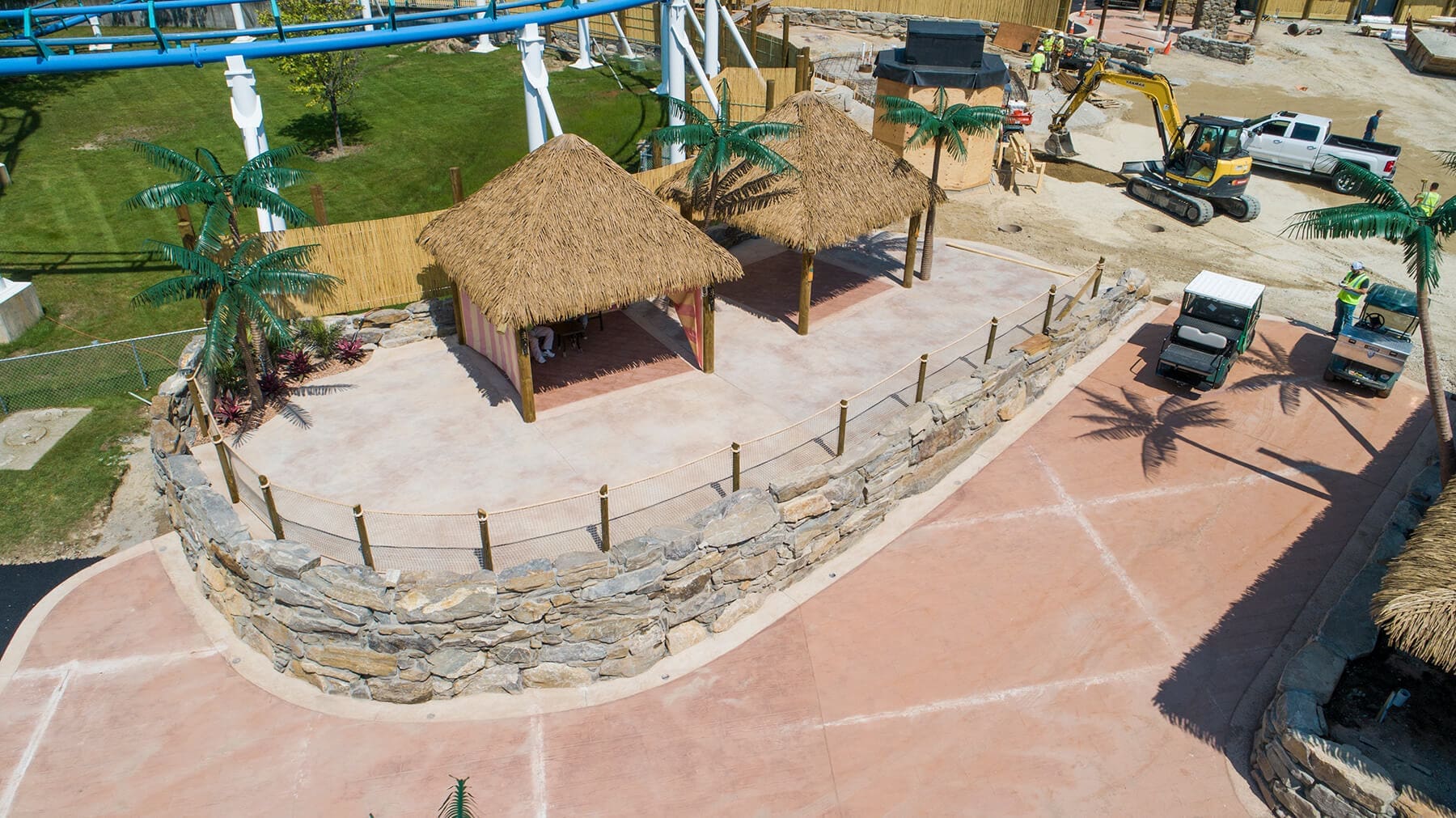 5/16/18
A lot of progress now.  The buildings are mostly up, the Outrigger Grill is looking great!


5/2/18
Water slides are up!!  Plus, today feels like we should be open… get the hose!  Coming this summer!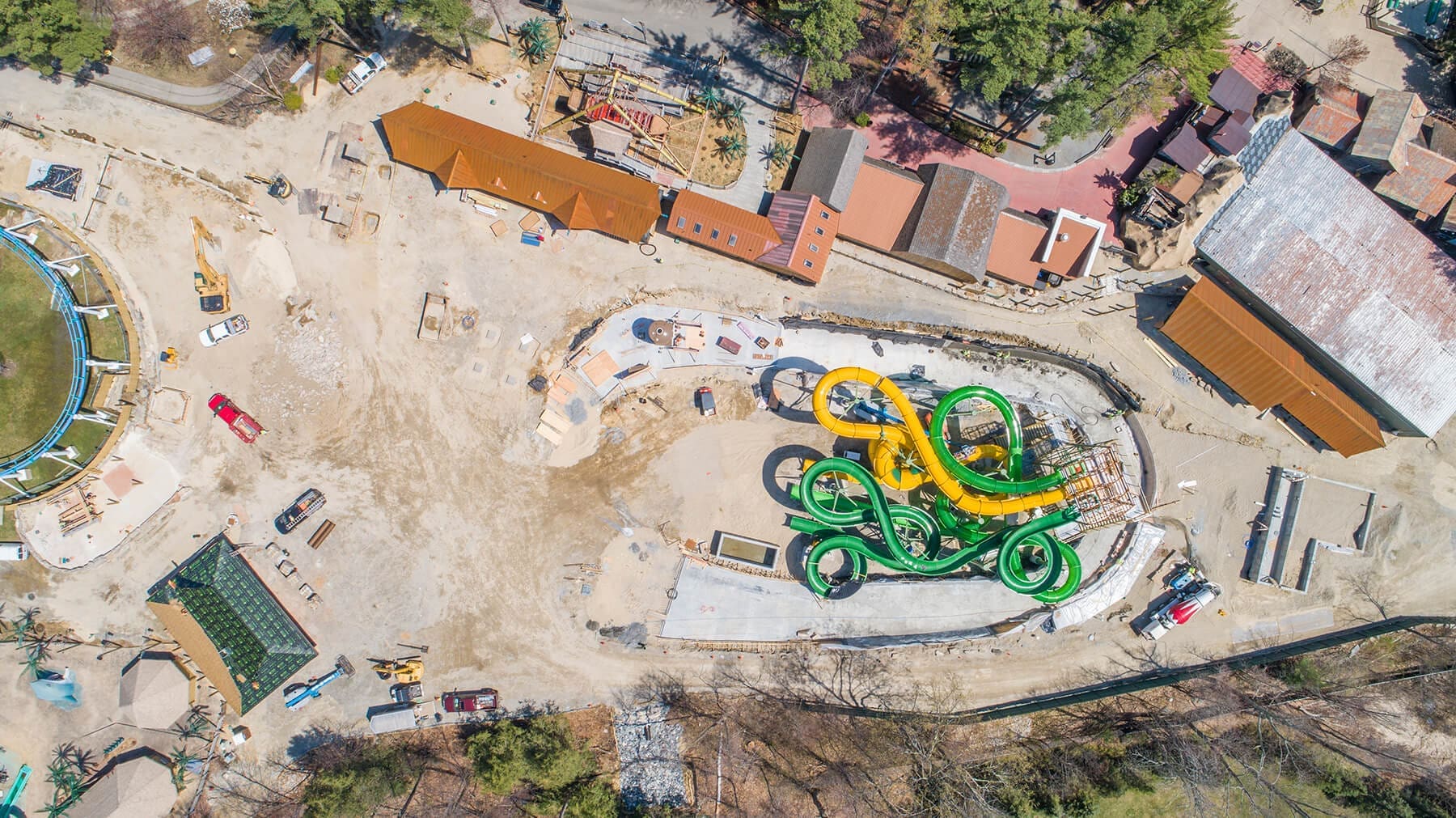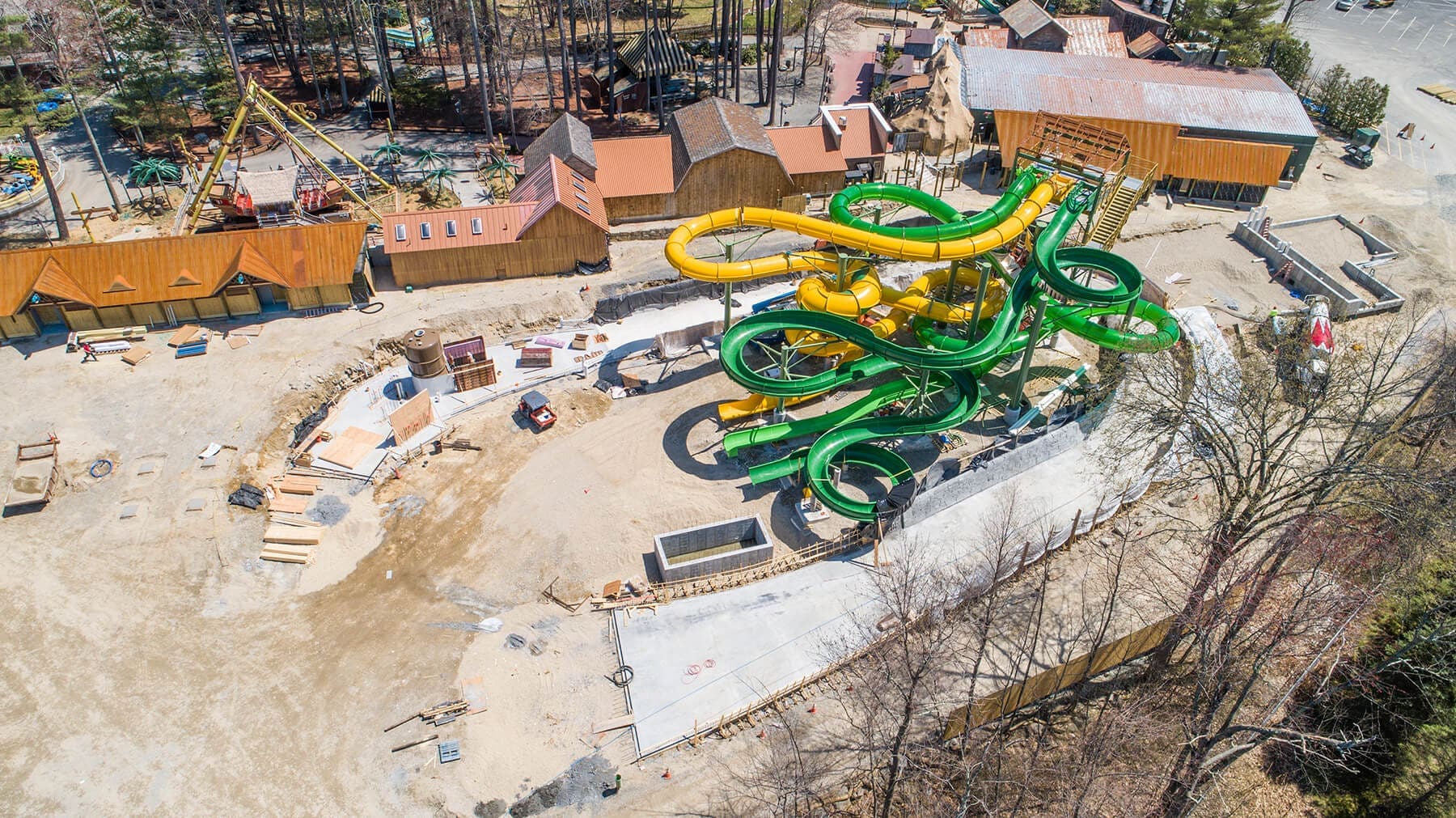 4/27/18
This is really starting to look like a water park!  Slide towers are up, restaurant roof is being installed, river is underway!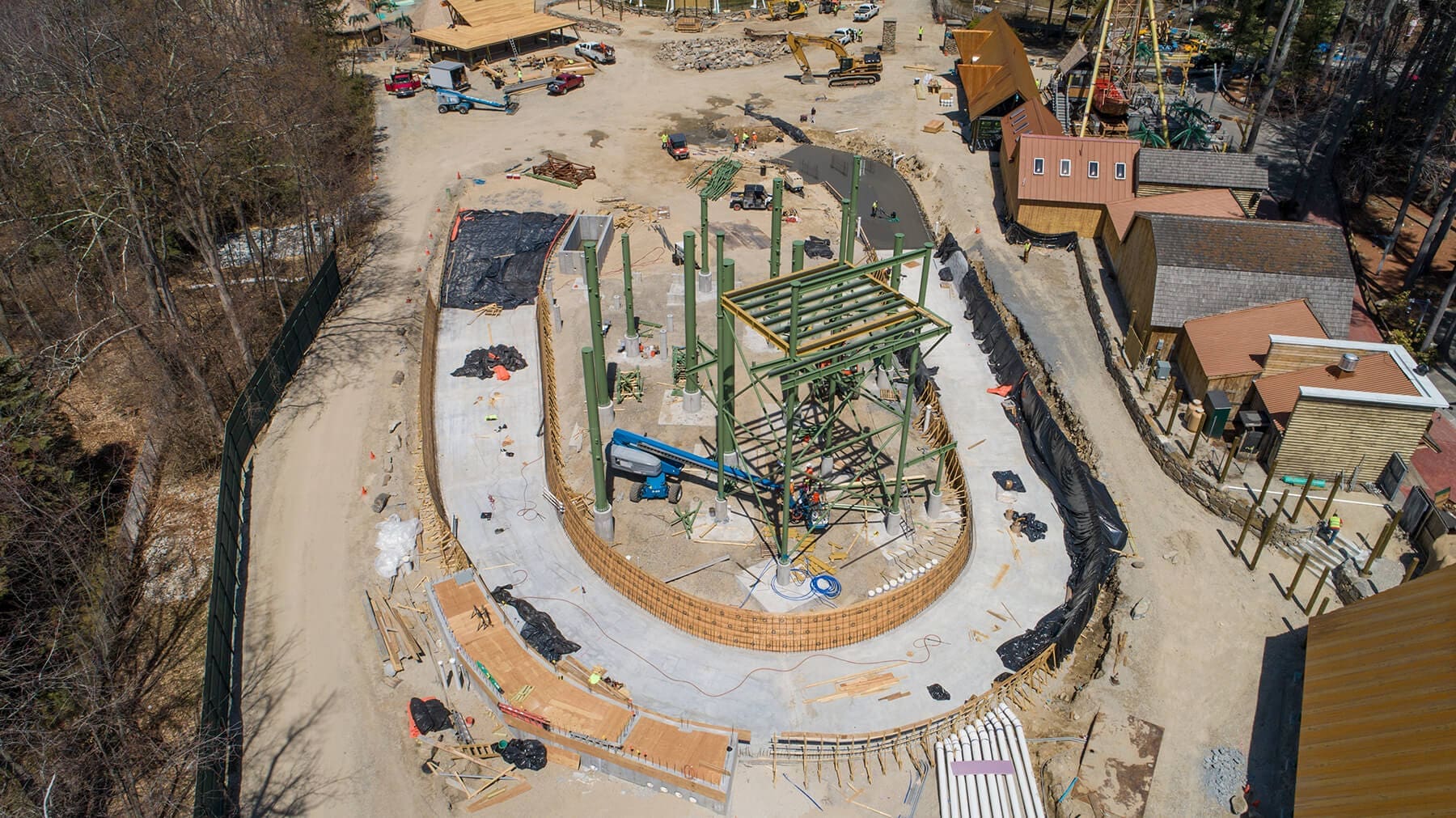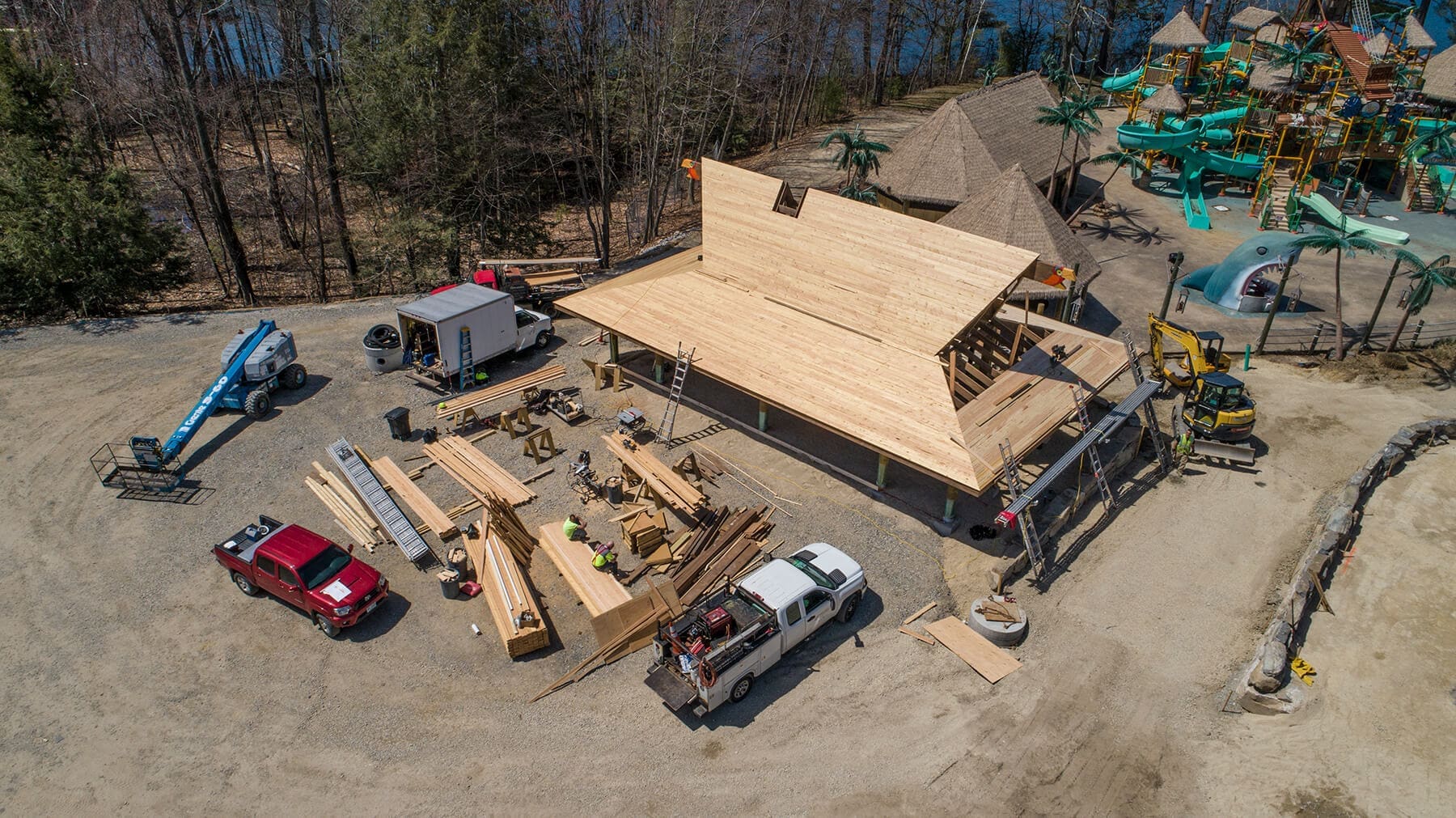 4/13/18
Construction is still on target and it is starting to actually look like a water park!  Plus all the water slides have arrived are being assembled as we speak.  This better weather is definitely putting us in the "water park mood"!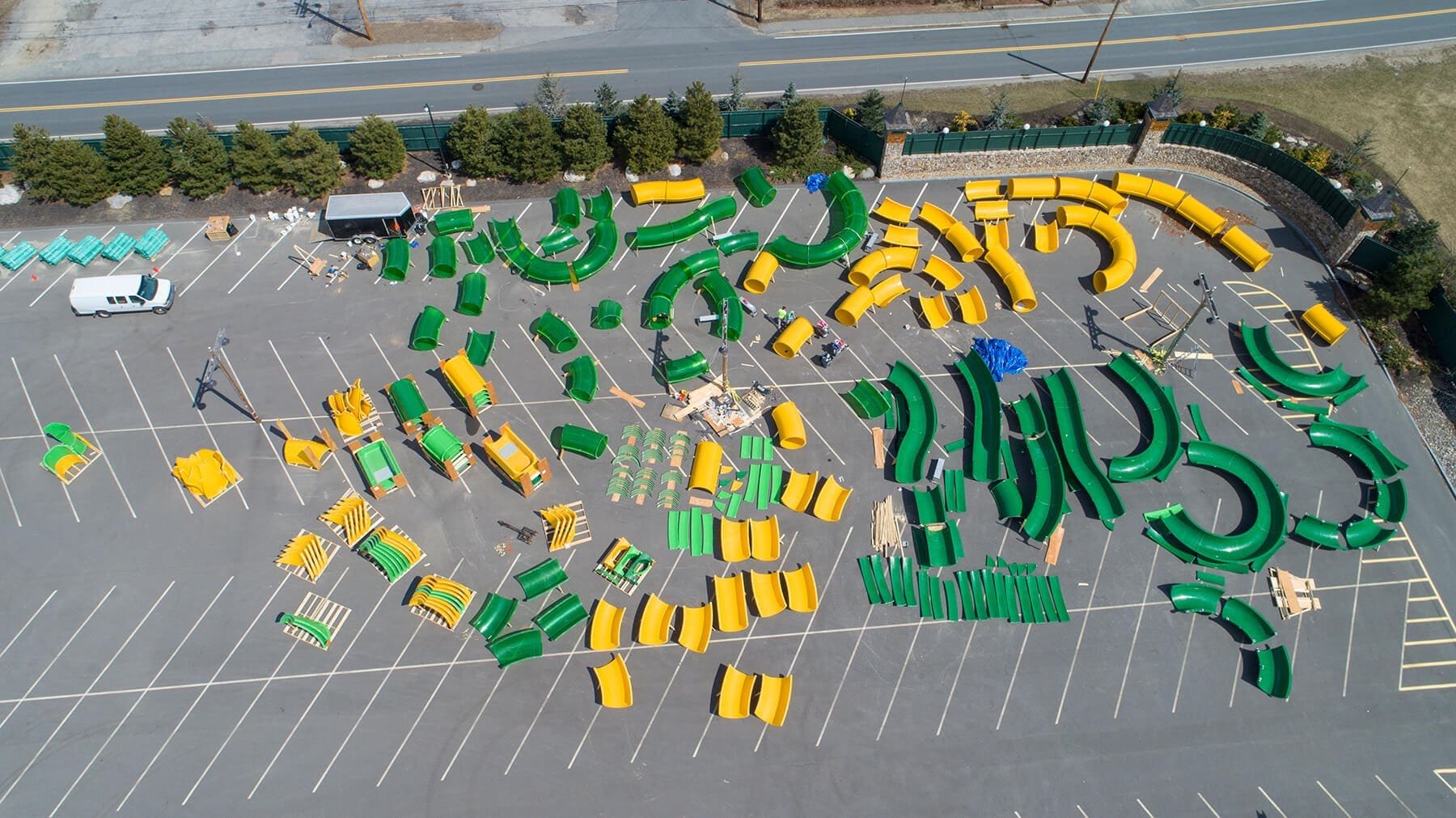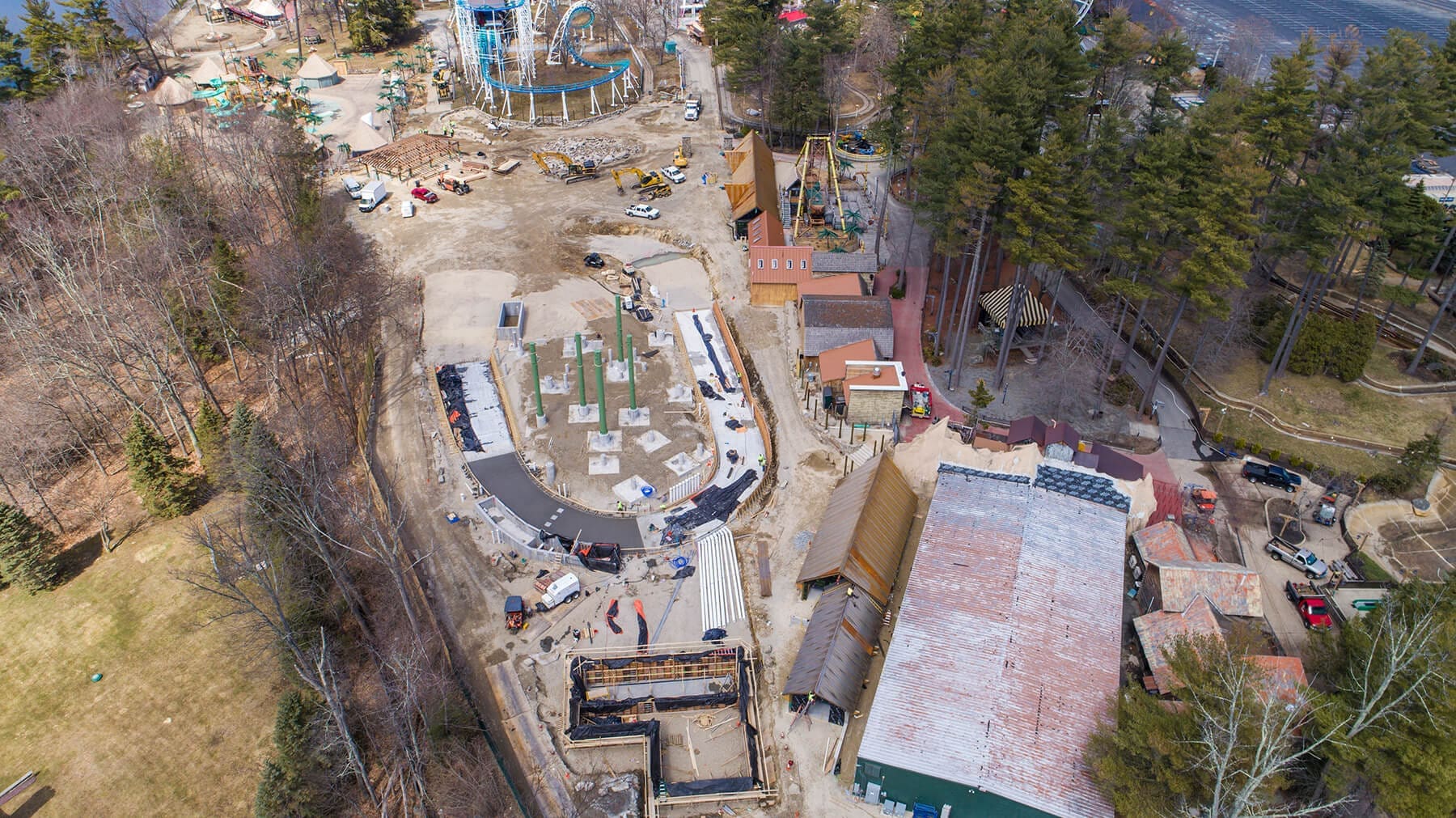 2/20/18
Construction is well underway of our new, expanded water park… CASTAWAY ISLAND! Foundations are being poured, the river trench has been dug, and framing has been started for the new buildings. We are loving this warm weather today… getting a lot done!!! Construction photos to follow in the coming week.