Castaway Island is now closed for 2019 and will re-open in the spring of 2020! Thank you all for a great first year of this new water park!

Castaway Island was expanded into a HUGE new water park last year!! It's wetter! It's wilder! It's the island vacation you can drive to! And Castaway Island is FREE with Park admission!
The Castaway Island Operating Schedule (weather & temperature permitting) is:
CLOSED FOR 2020.  Will re-open in the spring of 2020!

Please note: During peak times, entry to Castaway Island may be limited.  When we are limiting access to Castaway Island, a queue line will form at the entrance with varying wait times.  Our suggestions for immediate entry is weekdays rather than weekends OR arrive early.  Gates and Castaway open at 10:00am.
Castaway Island features a tidal river (think lazy river but with waves), a 60′ tower with THREE water slides, the Lil' Squirts Lagoon for kids, a Rain Fortress, private cabanas, a new restaurant, a tiki bar, new changing facilities and more!! Proper bathing attire required.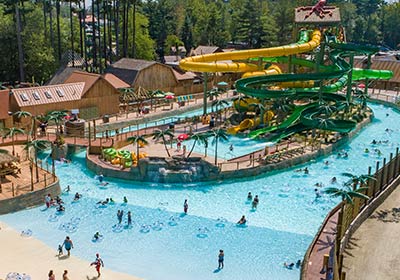 Castaway Island's Tidal River
Think Lazy River but with Waves!
NEW FOR 2019!
The centerpiece of the all new Castaway Island is the Tidal River. One of only a few tidal rivers ever created, guests enter a refreshing zero-entry wave pool before making their journey to the entrance of the river. As you glide past the Tiki Guardian, waves are formed every 10 seconds propelling you through a tranquil island oasis around our Slide Island.
Proper swimwear required and guests under 42" in height must wear a complimentary life jacket.
Castaway Island's River Slides
Python, Anaconda & Constrictor
New for 2019!
Take the River Bridge over the powerful Tidal River to get to Slide Island. Guests can walk up the 62' tower to find three very different types of water slides. One slide is entirely open at the top so you can still get your sun tan while soaring down to the run-off pool. The second slide is entirely enclosed so you feel like your traveling through a dark tunnel in the tropics. The third slide gets wide, then skinny, then wide, then skinny, causing you to whip through the experience.
Proper swimwear required. Minimum of 48" in height to ride. Single person uses single tube with 300lb max capacity and 2 people use double tube with a 400lb total max capacity.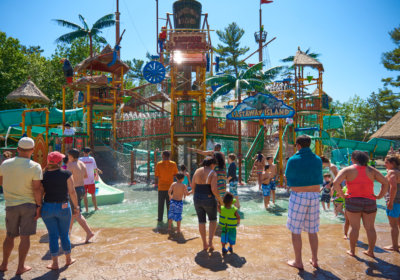 Castaway Island's The Rain Fortress
Over 180 ways to get wet!
The "original" Castaway Island Rain Fortress features over 180 ways to get wet including water slides, endless mazes of ropes, bridges and interactive elements AND a giant tipping bucket at the top! Castaway opens from 10:00am-6:30pm, weather and temperature permitting.
The entire Castaway Island (original Rain Fortress and the newly expanded area) will be closing for the season on Labor Day.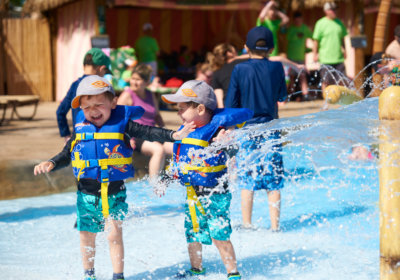 Castaway Island's Lil Squirts Play Pad
Perfect for the little ones!
New for 2019!
This 2,900 gallon splash pad is perfect for your little ones to splash and play with a water depth of 0"-8". The cool features include a spraying mushroom, banana and a water worm complete with palm tree and cartoon monkey. Plus, check out those coconuts on that palm tree, they may even spray you with water too!
48" max height. Over 48" may enter when accompanying a small child.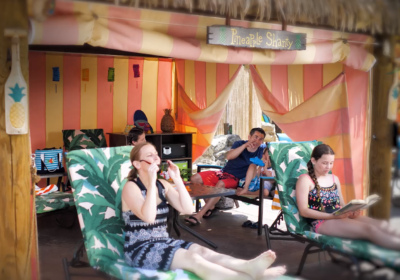 Castaway Island's Private Cabanas
New for 2019!
Secure a private cabana for a truly personal service. The Cabanas at Castaway Island feature a private 12'x12' covered area for up to 8 guests including private seating and lounge chairs. Plus, the Cabanas have televisions with 25 channels and 5 music channels, a mini-fridge, ceiling fan, personal code-locked safe, and a Cabana Concierge to assist with questions and food & beverage service.
Cabanas are available to rent online up to 2 weeks in advance. Any remaining available cabanas may be rented the day of your visit at the Island Trader hut by the entrance to Castaway Island.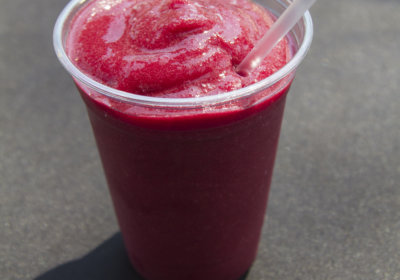 Castaway Island's Monkey Bar
A refreshing adult oasis!
New for 2019!
Take a sip on your perfectly crafted adult beverages while sitting on the elevated patio deck overlooking the Tidal River!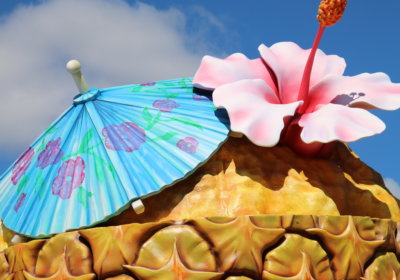 Castaway Island's Dole Whip Pineapple Bar
Amazing, sweet, delicious treat!
New for 2019!
Walk away with an awesome Dole Whip! This sweet treat is served "Pineapple style" and will refresh you even on the hottest of days!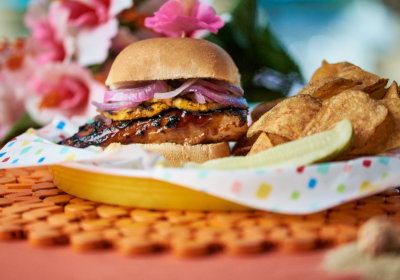 Castaway Island's Outrigger Grill
Grab & Go Lunch with a tropical flare!
New for 2019!
When your stomach starts to grumble from all your floating and swimming, swing on in to the Outrigger Grill for a Caribbean twist on favorites such as grilled chicken, burgers, chicken tenders, fish sandwiches & assorted wraps!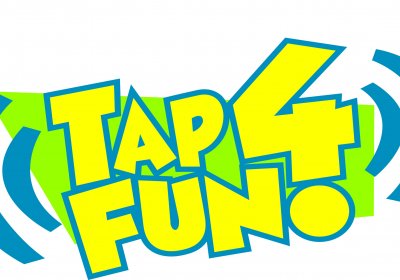 Cashless Payments through the Park
Leave your wallet in your locker!
New for 2019!
Join the CanobieClub at the Entrance to Castaway Island or at the CanobieClub Welcome Center between Kiddieland and the Boston Tea Party to receive a waterproof RFID wristband that may be worn throughout Castaway Island. This bracelet is a FREE souvenir for you and your family! In addition to getting a FREE GAME for just signing up, you can attach your credit card similar to a hotel room key to make payments almost anywhere in the Park!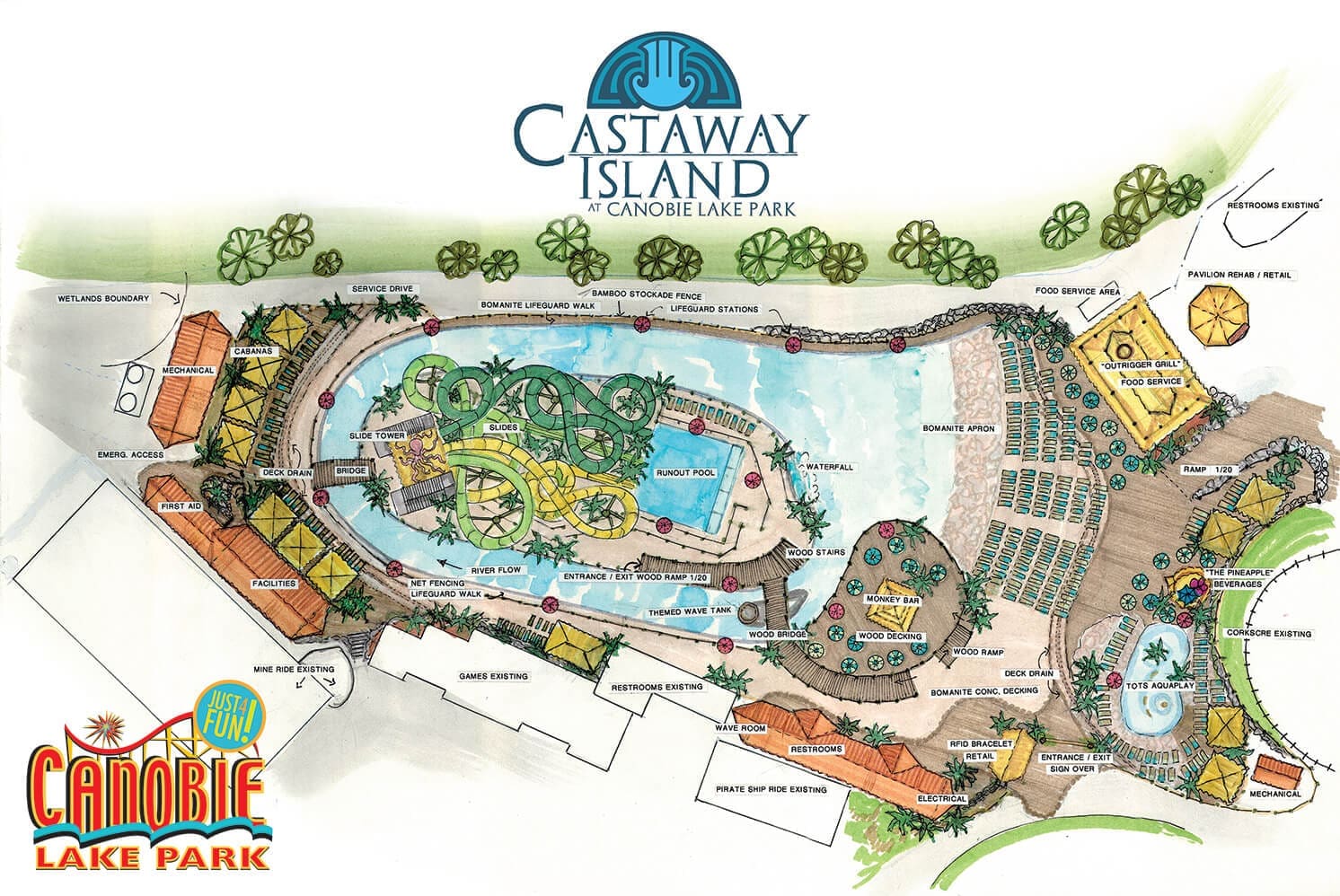 AS THE LEGEND GOES…
Cano, the Goddess of Tides and Queen of Water reigned supreme. While traveling her coastal domain, a vision appeared in a tide pool telling her that her world would soon be lost. She was to take her three children, Earth, Air, and Fire, to a secluded oasis. Cano touched her finger to the sea and created an island. Over this island she placed Kanaloa, an octopus of protection. She then captured the sun and placed it beneath the octopus to create paradise.
Cano needed to send word to her three children to come to the island. She carved directions to this new home on the Tablet of Earth, the Tablet of Air, and the Tablet of Fire.
Cano, Earth, Air, and Fire all lived on this island for thousands of years in peaceful harmony. Cano created a water oasis, Earth created beautiful grounds, Air created a summer breeze, and Fire created the food that would sustain them forever.
Thousands of years later the tablets were found. Archeologists have been working for centuries to decipher the location of this cast away island and they are close. Kanaloa and the Tiki Guardians will ensure this oasis is preserved for all of time.